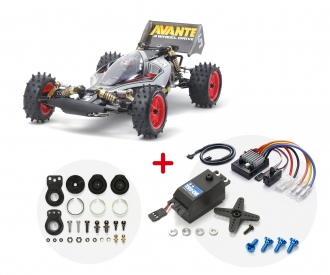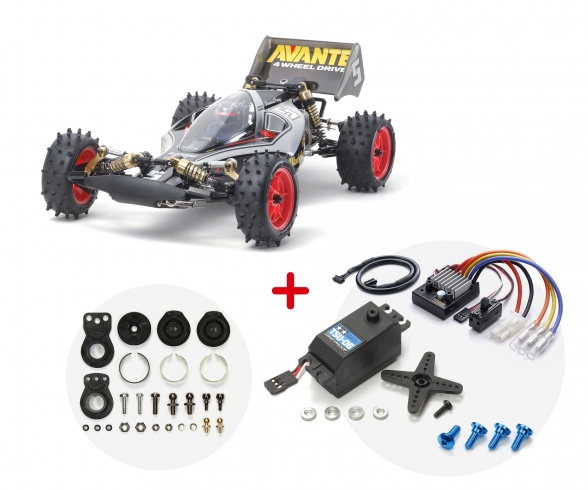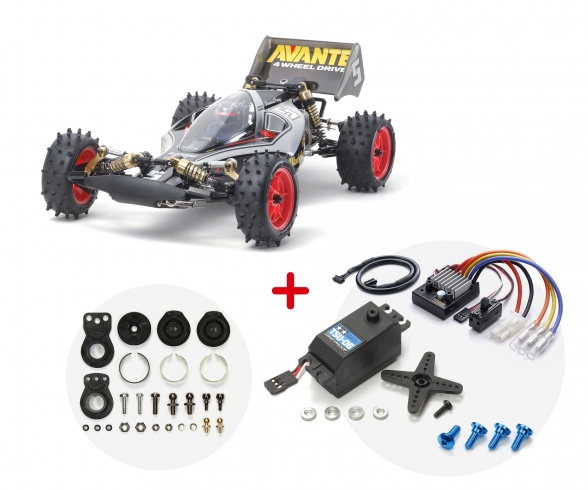 €715.46 (-18%)
€589.99
incl. VAT
free shipping
(within the EU)
Quantity:
1
2
3
4
5
6
7
8
9
10
11
12
13
14
15
16
Delivery time 1-3 working days within Germany
This item can only be delivered to the following countries:
Germany, Austria, Portugal, Netherlands, Hungary
Product information
Produktbundle bestehend aus: 1:10 RC Avante (2011) Black Special 4WD | Tamiya Fahrtregler ESC TBLE-04S | TSU-06 Digital Servo Low Profile | Alu Schrauben (4) f. Servomontage | Hi-Torque Servo Saver Schwarz
Art.Nr.: 300047390
Art.bezeichnung: 1:10 RC Avante (2011) Black Special 4WD
Der Avante war ein absolutes technologisches Meisterstück von TAMIYA in den achtziger Jahren.
Das Modell ist ein Meilenstein in der RC Geschichte und der Name Avante wurde zu einer Marke.
Im Jahre 2011 wurde das Modell von TAMIYA wieder aufgelegt und war somit wieder in einer sehr kleinen Stückzahl erhältlich. 2018 kam dann eine spezielle "Black Special" Version die auch sehr schnell ausverkauft war. Nun gibt es von dieser Spezialversion eine Wiederauflage und jeder TAMIYA Fan kann seine Sammlung ergänzen.
Das Modell besticht durch seine einzigartige Konstruktion und der üppigen Bausatzausstattung mit viel Kohlefaser und Aluminium/Metallteilen.
Das Oberdeck und das Chassis besteht aus 2mm dickem Kohlefaser und die hintere Dämpferbrücke ist ebenfalls aus Kohlefaser.
Diesem Bausatz liegt weiterhin schon die überarbeitete Lenkung mit einer 2mm Kohlefaser Lenkungsplatte (mit 850er Kugellager) und dem Torque-Splitter Set für eine verbesserte Traktion bei.
Weiterhin enthält dieser limitierte Bausatz einen speziellen 540er Brushed Motor mit einem speziellem Aufkleberdesign.

Benötigtes Zubehör: 2-Kanal Fernsteuerung mit Lenkservo, elektronischer Fahrtenregler, Akkupack, Ladegerät für Fahrakku, Senderbatterien, TAMIYA PS-Farbe für Polycarbonat Karosserien
Art.Nr.: 300045065
Art.bezeichnung: TSU-06 Digital Servo Low Profile

Leichtes, leistungsstarkes und platzsparendes Digital Servo mit Standardabmessungen und niedriger Einbauhöhe. Aufgrund der niedrigen Einbauhöhe eignet sich das Servo bestens für sehr flache Modelle wie z.B. das TAMIYA TC-01 Chassis, kann aber problemlos auch in anderen On- und Off-Road Modellen eingesetzt werden. Die hohe Stellgeschwindigkeit und Haltekraft sowie die spritzwassergeschütze Elektronik ermöglichen einen universellen Einsatz.
Art.Nr.: 300054862
Art.bezeichnung: Alu Schrauben (4) f. Servomontage
Get the best out of your servo with these step screws, which give tighter and more secure attachment.

Item Contents/Information

• Aluminum Step Screws x4
• Step screws cater to holes between 4.5mm and 5mm, and do not require washers, meaning that they give a great fit and save maintenance time.
• Hex holes ensure tight attachment.
• Some servos may only require 2 screws.
Art.Nr.: 300051000
Art.bezeichnung: Hi-Torque Servo Saver Schwarz
Achtung! Nicht für Kinder unter 14 Jahren geeignet.
---
Product details
Art.Nr.: 300047390
Art.bezeichnung: 1:10 RC Avante (2011) Black Special 4WD
Technische Details:
- limitierter Bausatz, ursprüngliche Bausatznummer 84270
- Modell im Maßstab 1/10
- Vintage Wettbewerbsbuggy mit Kardan-Allradantrieb
- Länge: 420mm, Breite: 240mm, Höhe: 140mm, Radstand: 260mm
- Chassis und Oberdeck aus 2mm dickem Kohlefaser, hintere Dämpferbrücke ebenfalls aus Kohlefaser
- Inklusive dem Avante 2011 Lenkungsset mit einer 2mm dicken Kohlefaser Lenkungsplatte und 850er Kugellager
- Inklusive dem Avante 2011 Torque Splitter Set und Kugeldiffs für verbesserte Traktion
- 4-Rad Doppelquerlenker Aufhängung mit Metallachsen
- Aluminium Achsträger vorne im gleichem Design wie vom Original Avante
- Spike Reifen auf Neon-Felgen
- Spezieller 25T Brushed Motor

Technische Daten:
Länge 420 mm
Breite 240 mm
Höhe 140 mm
Radstand 260 mm
Spurbreite 200 mm
Bodenfreiheit 40 mm
Felgenmitnehmer 12 mm
Reifendurchmesser 88 mm
Reifenbreite 38 mm
Art.Nr.: 300045069
Art.bezeichnung: Tamiya Fahrtregler ESC TBLE-04S
- elektronischer Fahrtenregler für gesensorte Brushless Motoren und Brushed Motoren (25T Motorlimit)
- gesensortes System für eine genauere und effizientere Motoransteuerung (gesensorter Motor wird extra benötigt)
- Akku-Abschaltspannung, Rückwärtsgang und Motor-Mode kann eingestellt werden.
- Kompatibel mit TAMIYA sensored Motoren und TAMIYA Brushless Motoren (25T+)
- 10 verschiedene Einstellungen wählbar für Neutralbremse und Bremse
- Überlastungs- und Überhitzungsschutz
- 47g inkl. Kabel
- Kompatibel mit NiCd, NiMH und LiFe Akkus
- Abmessungen: 41,5 x 33,4 x 18 mm
Art.Nr.: 300045065
Art.bezeichnung: TSU-06 Digital Servo Low Profile
Technische Daten:
Stellmoment 3,5 kg·cm / (ca. 34 N·cm)
Stellgeschwindigkeit 0,1 sec / 60° (@6V/DC, BEC)
Betriebsspannung 4,8 – 6,0 V/DC
Abmessungen: 40,0 x 20,0 x 26,0 mm
Gewicht 26 gr.
Stecksystem Fut./Uni.
Art.Nr.: 300051000
Art.bezeichnung: Hi-Torque Servo Saver Schwarz
- für MF-01X Chassis (54120 kombinierte Verwendung)