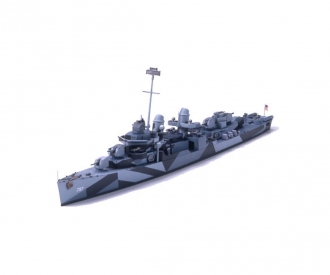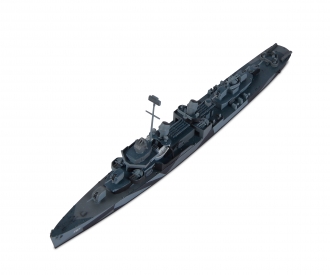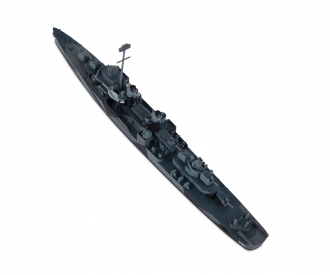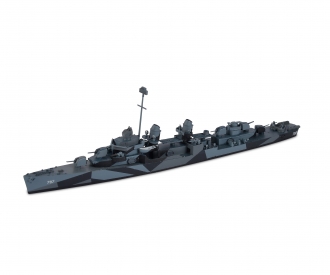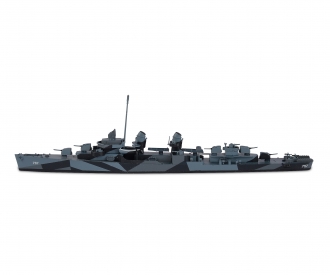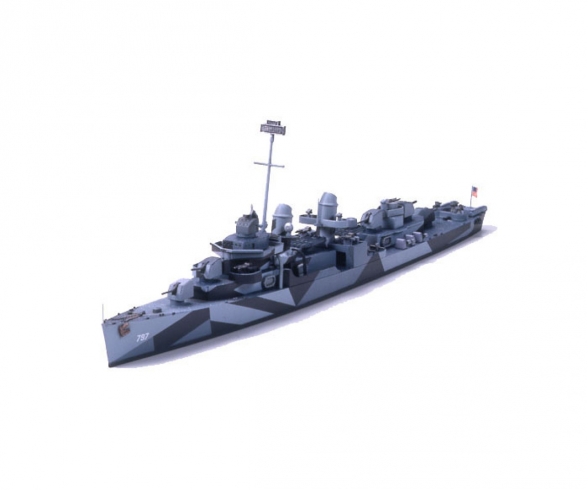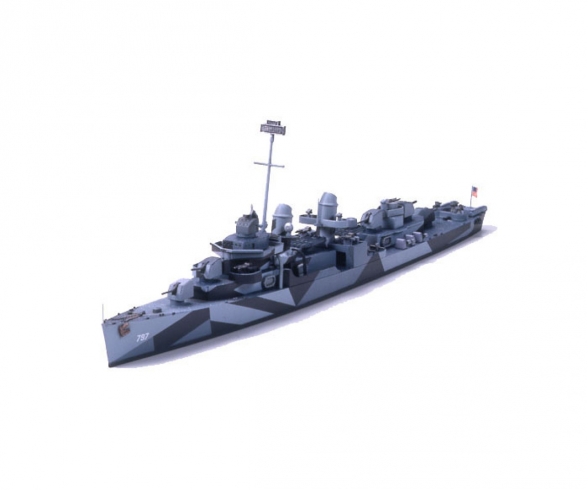 1:700 WL US Nav.Destroyer DD-797 Cushing
Article number: 300031907
Age recommendation: from 14 years
Quantity:
1
2
3
4
5
6
7
8
9
10
11
12
13
14
15
16
17
18
19
20
21
22
23
24
25
26
27
28
29
30
This item can only be delivered to the following countries: Germany, Austria, Portugal, Netherlands, Hungary
Article number: 300031907
Product: 1:700 US DD-797 Cushing Zerstörer WL

During the Second World War, the US Navy built a total of 175 units of the 2,000-ton Fletcher-class destroyers. The USS Cushing (DD-797) was not completed until 1944, but still took part in numerous important naval operations, such as the Battle of Leyte Gulf. Due to its late completion, the USS Cushing had some improvements compared to its sister ships: for example, reinforced anti-aircraft armament and the characteristic square bridge, which offered greater visibility. In addition to five 12.7 cm guns and a five-way 533-mm torpedo launcher, the destroyer was armed with five 40-mm (AA) twin anti-aircraft guns and seven 20-mm (AA) anti-aircraft guns. When the Japanese surrendered on September 2, 1945, the Cushing was anchored together with the battleship USS Missouri in Tokyo Bay. The TAMIYA model on a scale of 1:700 is characterized by high levels of detail and faithfulness to the original. The kit includes a decal sheet with ship numbers and the US flag.

Warning notices:
Read carefully and fully understand the instructions before commencing assembly. A supervising adult should also read the instructions if a child assembles the model.
When assembling this kit, tools including knives are used. Extra care should be taken to avoid personal injury.
Read and follow the instructions supplied with paints and/or cement, if used (not included in kit).
Keep out of reach of small children. Children must not be allowed to put any parts in their mouths, or pull vinyl bags over their heads.