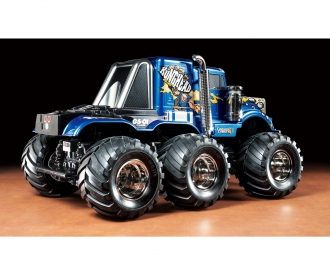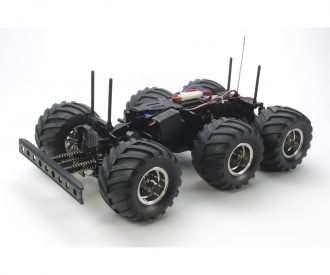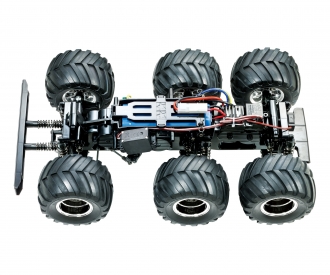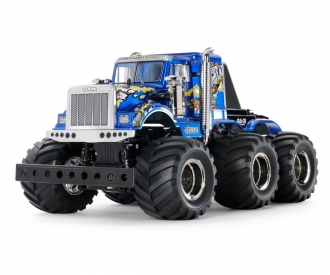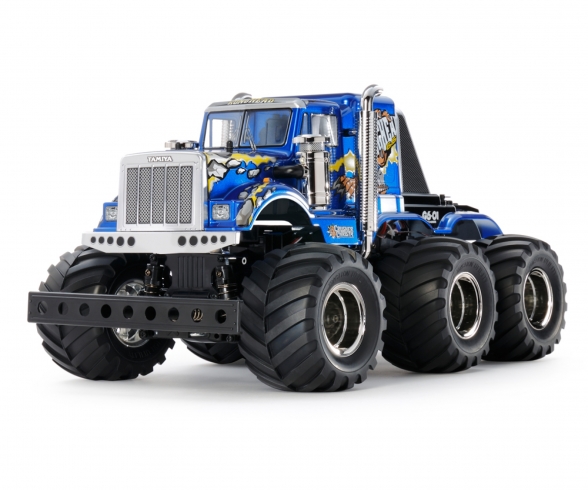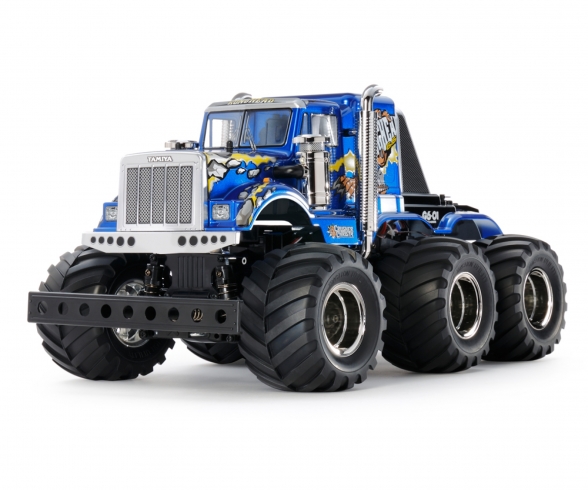 €235.00
incl. VAT
free shipping
(within the EU)
Quantity:
1
2
3
4
5
6
7
8
9
10
11
12
13
14
15
16
17
18
19
20
21
22
23
24
25
26
27
28
29
30
in stock, Delivery time 1-3 working days within Germany
This item can only be delivered to the following countries:
Germany, Austria, Portugal, Netherlands, Hungary
Article number: 300058646
Product: 1:18 RC Konghead 6x6 (G6-01)

Take a look at Tamiya's first ever big-wheeled 6WD model - the Konghead 6x6! This model utilizes a new geardriven 6WD chassis which used the GF-01 as a starting point. The excellent drive it provides will make for supremely fun off-road driving.

About the Model
• This is an R/C model assembly kit. Length: 420mm, width: 270mm, height: 280mm.
• The 6WD chassis employs 3 differential gears to transmit power from the front-center-mounted motor to all of the model's wheels. These differentials are encased in the durable monocoque.
• 6-wheel independent double-wishbone suspension is paired with friction dampers.
• The brand new polycarbonate body was inspired by the classic Bullhead, and indeed its metal-plated injection molded air cleaner and muffler depictions are the same as those used on the Bullhead.
• The kit manual build creates a front wheel-steering model. It also includes instructions to re-assemble it into a 4WS model with steerable rear wheels. Separately-sold 4WS function transmitter and R/C equipment are required.
• The model is compatible with many GF-01 chassis Hop Up Option and spare parts.
• The Bullhead-inspired body features a brand new sticker sheet with brash, colorful logos created just for this model. A host of metal-plated parts includes air cleaners and exhaust (both from the Bullhead), plus chrome-plated deep rim wheels.
• Its powerful gear-driven setup allows the Konghead to take on slopes of up to 40 degrees - the perfect outdoor drive!
Scope of delivery:
Kit model with detailed illustrated assembly instructions, 540 electric motor, polycarbonate body
Warning notices:
Read carefully and fully understand the instructions before commencing assembly. A supervising adult should also read the instructions if a child assembles the model.
When assembling this kit, tools including knives are used. Extra care should be taken to avoid personal injury.
Read and follow the instructions supplied with paints and/or cement, if used (not included in kit).
Keep out of reach of small children. Children must not be allowed to put any parts in their mouths, or pull vinyl bags over their heads.

Warning! Not suitable for children under 14 years.
Technical details:
- 1/18 scale kit model
- Encapsulated 6-wheel all-wheel drive
- 3 differentials
- small turning circle
- Polycarbonate body - inspired by the TAMIYA Bullhead
- The model is delivered with front wheel steering. the
Rear axle can also be built to be steerable (servo required).
- Chrome rims with 115 mm tires
- Independent front and rear suspension
- Powerful 540 electric motor