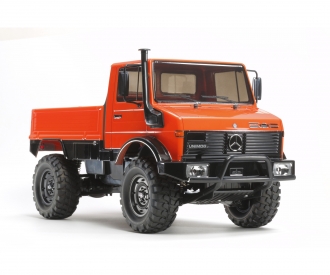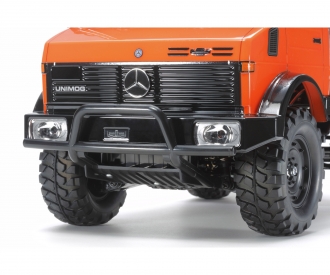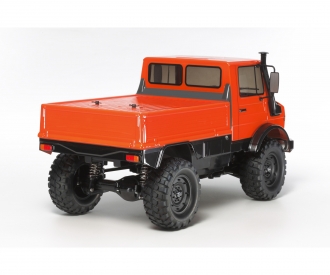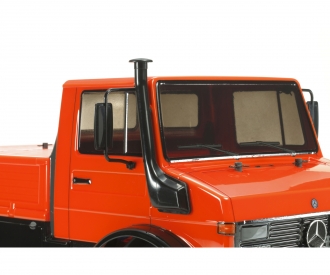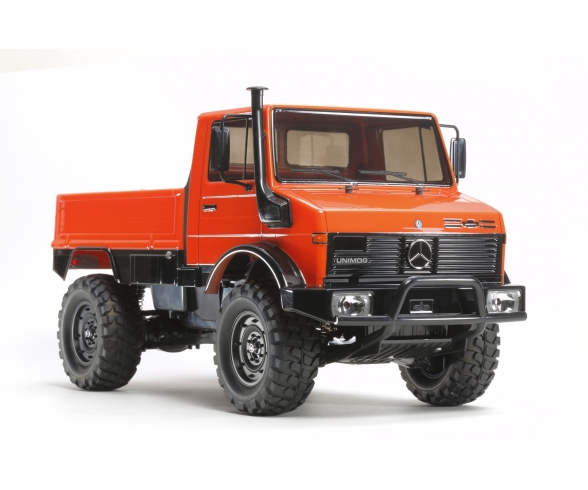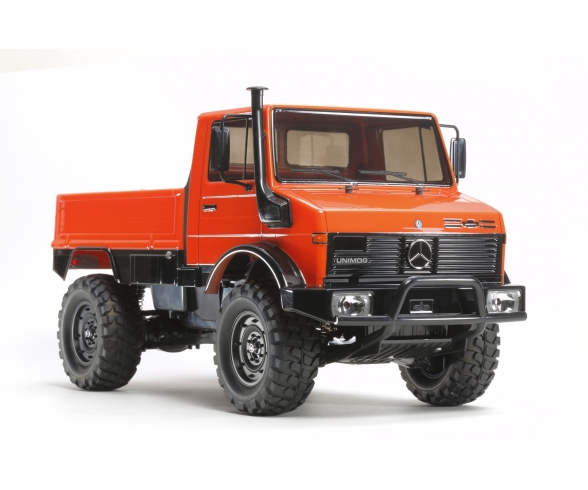 This item can only be delivered to the following countries: Germany, Austria, Portugal, Netherlands, Hungary
Article number: 300058609
Product: 1/10 RC Mercedes Benz Unimog 425(CC-01)

The Tamiya CC-01 (Cross Country) chassis is a favorite vehicle amongst R/C enthusiasts. It's easy to assemble and offers realistic cross country running. The list of body styles available has grown with the addition of the Unimog 425. The Unimog, of course, is a multi-purpose truck with unrivalled off-road performance and its name is an acronym which stands for the German description "UNIversal-MOtor-Gerat." The 425 variant was a heavier model that was produced in the 1970s and 1980s. It featured a 120hp engine and 2.81m wheelbase.

The Tamiya R/C replica faithfully captures all of the full size Unimog details down to the large snorkel and cap vent and large side view mirrors. The Unimog body is mounted on the capable CC-01 Cross Country chassis, which features independent front suspension and a rear 4-link rigid suspension set up for fun scale trail running enjoyment.
Warning notices:
Read carefully and fully understand the instructions before commencing assembly. A supervising adult should also read the instructions if a child assembles the model.
When assembling this kit, tools including knives are used. Extra care should be taken to avoid personal injury.
Read and follow the instructions supplied with paints and/or cement, if used (not included in kit).
Keep out of reach of small children. Children must not be allowed to put any parts in their mouths, or pull vinyl bags over their heads.
Warning! Not suitable for children under 14 years.
- The body of the Unimog 425 is accurately depicted, with the angular lines of the cab and the hood sloping forwards down to the wide grille.
- Lower body parts are integrated with main body.
- Separate parts are included to depict snorkel and cap, plus emblem cap and side mirrors.
- Comes with metal-plated light cases and front Mercedes-Benz emblem.
- Kit contains four 5mm-diameter LEDs to depict front and rear lights in the light cases.
- CC-01 chassis features a full-time 4WD system and front double wishbone, rear 4-link rigid suspension equipped with 4 CVA oil dampers.
- Over 40 Hop-Up-Options are available to tune the chassis to your skill level