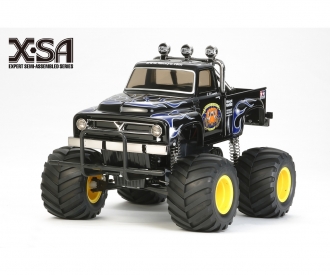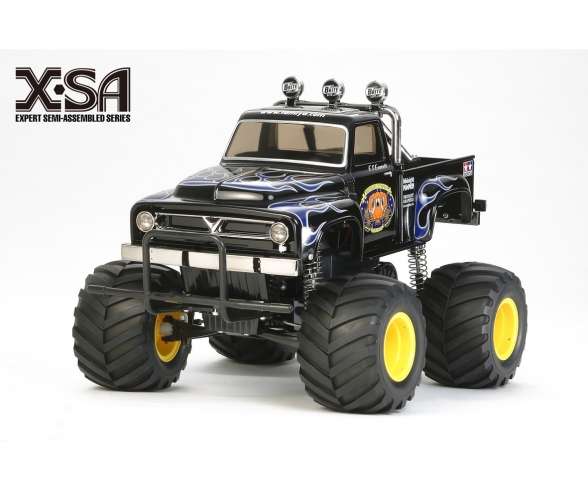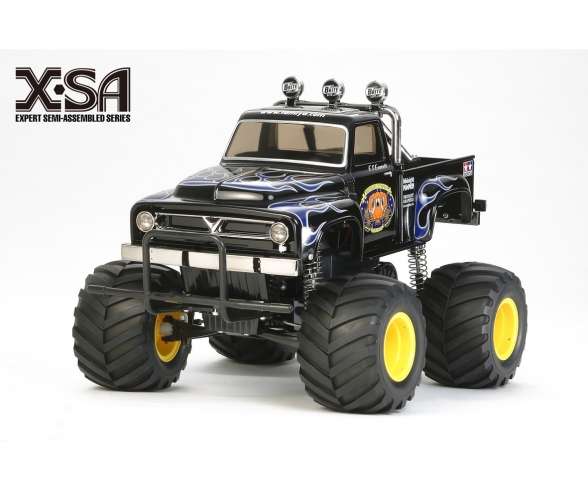 €210.00 (-19%)
€170.00
incl. VAT
free shipping
(within the EU)
Quantity:
1
2
3
4
5
6
7
8
9
10
11
12
13
14
15
16
17
18
19
20
21
22
23
24
25
26
27
28
29
30
in stock, Delivery time 1-3 working days within Germany
This item can only be delivered to the following countries:
Germany, Austria, Portugal, Netherlands, Hungary
Article number: 300046705
Product: 1:12 RC X-SA Midnight Pumpkin

Here is a new entry to the X-SA series of models, and yet another Tamiya classic: the Midnight Pumpkin. This is a finished model of the Midnight Pumpkin (as it appeared in Item 58547); all you require to get going with this adaptable, lightweight and beginner-friendly 2WD monster is your own transmitter, receiver, servo and a power
source!
Warning notices:
Read carefully and fully understand the instructions before commencing assembly. A supervising adult should also read the instructions if a child assembles the model.
When assembling this kit, tools including knives are used. Extra care should be taken to avoid personal injury.
Read and follow the instructions supplied with paints and/or cement, if used (not included in kit).
Keep out of reach of small children. Children must not be allowed to put any parts in their mouths, or pull vinyl bags over their heads.

Features:
• This is a 1/12 scale finished R/C model. Length: 385mm, width: 290mm, height: 260mm.
• Features a stylish, tough styrene body, which comes with markings already applied.
• The durable, easy-assembly 2WD chassis employs a box type frame with front swing arm independent and rear rolling rigid suspension setups.
• Big 115mm diameter semi-pneumatic tires on yellow wheels offer a dynamic drive on even the toughest of surfaces.
• The sealed rear gearbox protects the differential inside from dust and dirt, for a consistently smooth drive.
• A rear wheelie bar supports the model for wheels-in-the-air action when you slam on the throttle.
• Comes with the TEU-105BK ESC.
• Requires separately sold R/C equipment, battery pack and charger.