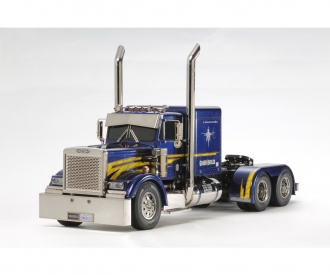 Article number: 300023800 Product: 1:14 RC XB Grand Hauler Full Option Fin.
The 1/14 R/C Grand Hauler, star of the show at Spielwarenmesse 2015 in Nuremberg, is now being made available as a factory finished model.
Warning! Not suitable for children under 14 years.
About the Model
• This is a 1/14 scale ready-to-run R/C model.
• Length: 692mm, Width: 192mm, Height: 330mm, Wheelbase: 433+103mm.
• The distinctive long nosed cab is pre-finished in the distinctive dark blue color with markings applied.
• Multi Function Control Unit (MFC-01) is pre-installed to provide various sound effects.
• LEDs are pre-installed to offer various light effects.
• The 3-speed transmission enables authentic gear changes while driving.
• Metal leaf springs and friction dampers enable realistic suspension movement.
• The included coupler enables connection with any currently available Tamiya 1/14 scale trailer.
• 4-channel R/C system is pre-installed.
• Battery pack & charger and batteries for transmitter are separately required.