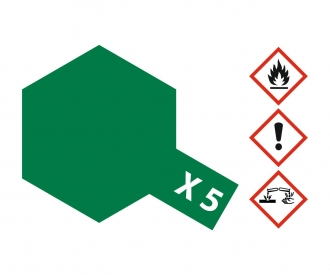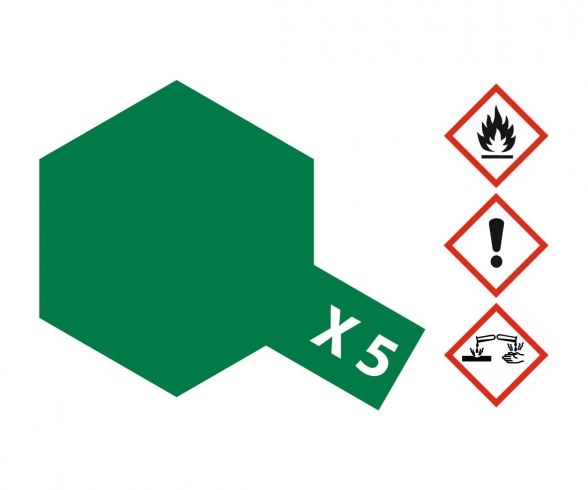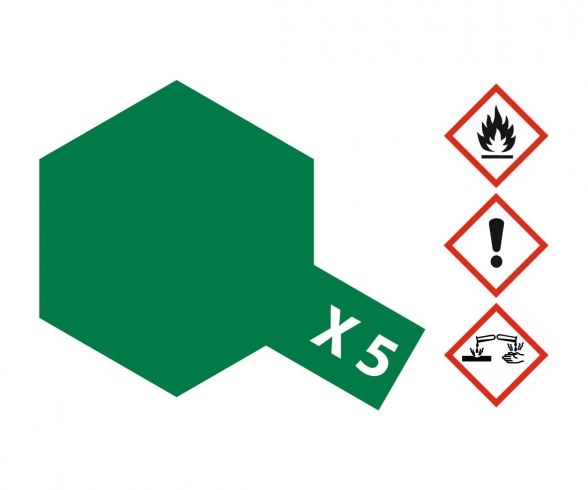 Quantity:
1
2
3
4
5
6
7
8
9
10
11
12
13
14
15
16
17
18
19
20
21
22
23
24
25
26
27
28
29
30
Delivery time 1-3 working days within Germany
This item can only be delivered to the following countries:
Germany, Austria, Portugal, Netherlands, Hungary
Product information
Art.Nr.: 300081505
Artikelbezeichnung: X-5 Grün glänzend 10ml

TAMIYA X-Acrylfarben werden aus wasserlöslichen Acrylharzen hergestellt und eignen sich hervorragend für die Pinsellackierung oder zum Auftrag mit Airbrushsprühgeräten. Diese Farben können auf Polystyrol (PS), ABS, Styrolharzen, Styropor, Holz sowie alle gängigen Modellkunststoffe verwendet werden. Zur besseren Haftung empfehlen wir eine vorherige Grundierung (TAMIYA Grundierungsspray z.B. 300087044 Grundierung Weiß) des jeweiligen Materials. Die Farbe deckt gut ab, fließt reibungslos und lässt sich leicht mischen. Vor dem Aushärten kann die Farbe mit normalem Wasser weggewaschen werden. Mit "X" bezeichnete Farben haben ein glänzendes Finish, während die "XF" gekennzeichneten Farben matt sind.

Für die Verarbeitung mit Airbrushsprühgeräten (je nach verwendeter Düse 0,25 – 0,50mm) sollten die X-Farben mit TAMIYA X-20A Acryl Verdünner (300081020 (23ml), 300081030 (46ml) oder 300081040 (250ml)) verdünnt werden.

Die X-Farben können auch mit dem TAMIYA Lacquer Thinner (300087077) verdünnt werden. Dies ermöglicht ein schnelleres Trocknungsergebnis und ein härteres Oberflächenfinish.

Unter Beigabe des TAMIYA Paint Retarder (Zeitverzögerndes Abtrocknen) (300087114) erhalten Sie nach dem Abtrocknen eine glattere Lackoberfläche (max. Mischverhältnis 1:10).

Inhalt: 10 ml

Signalwort Gefahr

Gefahrenhinweise:

- H226: Flüssigkeit und Dampf entzündbar.
- H318: Verursacht schwere Augenschäden.
- H332: Gesundheitsschädlich bei Einatmen.
- H336: Kann Schläfrigkeit und Benommenheit verursachen.
Downloads
Frequently bought together
Frequently bought together