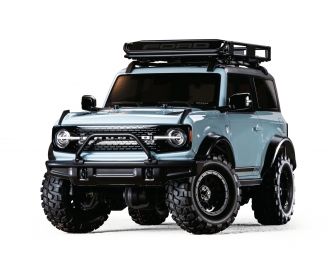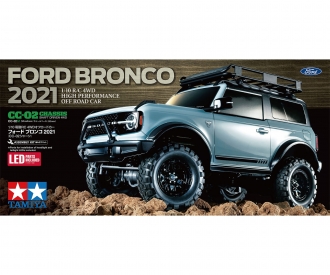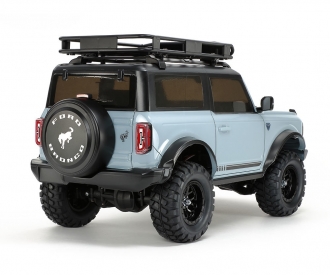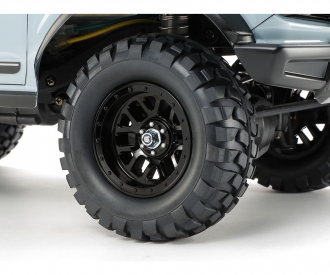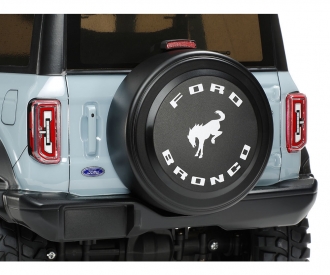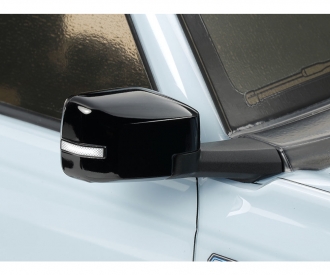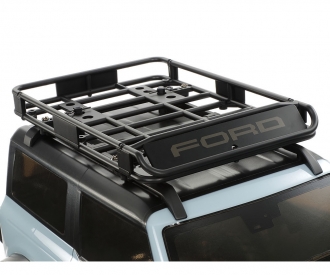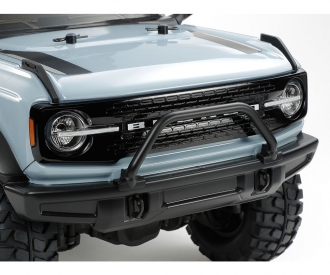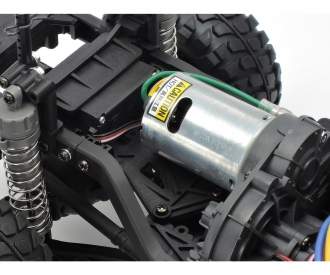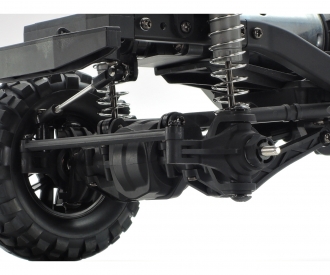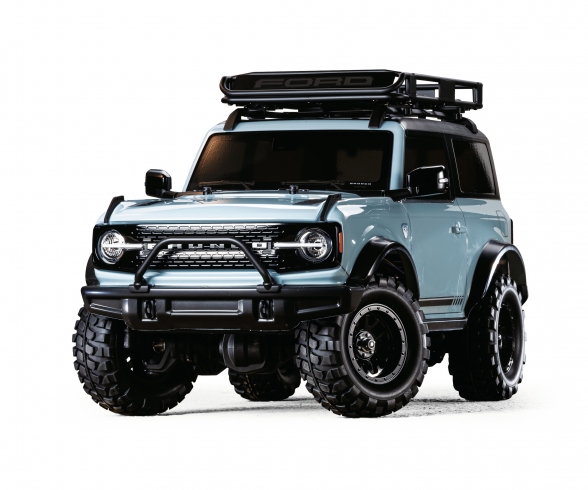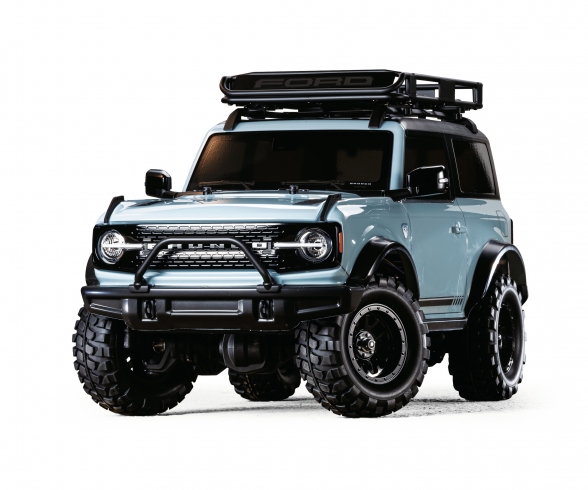 €295.00
incl. VAT
free shipping
(within the EU)
Quantity:
1
2
3
4
5
6
7
8
9
10
11
12
13
14
15
16
17
18
19
20
21
22
23
24
25
26
27
28
29
30
Delivery time 1-3 working days within Germany
This item can only be delivered to the following countries:
Germany, Austria, Portugal, Netherlands, Hungary
Product information
Art.Nr.: 300058705
Art.bezeichnung: 1:10 RC Ford Bronco 2021 (CC-02)

Tamiya präsentiert das CC-02 Chassis (Cross Country) jetzt in der Version mit einer 2021er Ford Bronco Karosserie.

Das CC-02 Chassis wurde den echten Offroad Fahrzeugen nachempfunden und besitzt ein Rahmenchassis, Kegeldifferenziale vorne und hinten und einer 4-Link Aufhängung. Die Starrachse vorne und hinten macht das Modell besonders geländegängig und die 4 CVA Öldruckstoßdämpfer federn jede Unebenheit perfekt weg.
Für den Antrieb sorgt ein kräftiger 540er Motor der hinter der Vorderachse eingebaut ist. Dies sorgt für eine gute Gewichtsverteilung wenn es ins Gelände geht. Angekapselt an den Motor ist die Getriebebox die die Kraft über bewegliche Kardanwellen an die Vorder- und Hinterachse weiterleitet.

Die Karosserie hat das unverwechselbare Design des modernen Ford Bronco und ist aus Polycarbonat gefertigt. Zusätzlich spendierte Tamiya separate Anbauteile und einen neuen Dachgepäckträger. Die Lampeneinsätze können mit 5mm LED´s ausgestattet werden – die Lichteinheit liegt dem Bausatz mit bei!

Benötigtes Zubehör: Fernsteuerung mit Empfänger, Lenkservo, Akkupack, Ladegerät, TAMIYA PS-Farbe für Polycarbonatkarosserien
4WD Bausatzmodell, CC-02 Chassis,
Anleitung, Elekt. Fahrtregler, Poly-
carbonat-Karosserie mit Anbauteilen,
540er Elektromotor,
Öldruck-Dämpfer, Starrachse vo/hi manuell
sperrbar, Längslenkeraufhängung,
Leiterrahmenchassis, LED Licht-
einheit, Anleitung.

Radstand 252 mm.
ACHTUNG!
Bevor Sie mit dem Zusammenbau beginnen, sollten Sie alle Anweisungen gelesen und verstanden haben. Falls ein Kind das Modell zusammenbaut, sollte ein beaufsichtigender Erwachsener die Bauanleitung ebenfalls gelesen haben.
Beim Zusammenbau des Bausatzes werden Werkzeuge einschließlich Messer verwendet. Zur Vermeidung von Verletzungen ist gesonderte Vorsicht angebracht.
Falls beim Zusammenbau Schwierigkeiten auftreten, fragen Sie einen Erwachsenen, der die Arbeiten überwacht oder einen Modellbauer mit RC Erfahrungen bzw. Fachhändler.
Werkzeuge jeweils nur zweckbestimmt einsetzen. Bei fehlerhafter Anwendung besteht Verletzungsgefahr.
Wenn Sie Farben und/oder Kleber verwenden (nicht im Bausatz enthalten), beachten und befolgen Sie die dort beiliegenden Anweisungen.
Bausatz von kleinen Kindern fernhalten. Verhüten Sie, dass Kinder irgendwelche Bauteile in den Mund nehmen oder Plastiktüten über den Kopf ziehen.
---
Product details
- Bausatzmodell im Maßstab 1/10
- Länge: 447mm, Breite: 204mm, Höhe: 233mm, Radstand: 252mm (M-Radstand)
- Vorbildgetreue 1,2mm dicke Polycarbonat Karosserie des Ford Bronco
- Karosserie Anbauteile aus PC-ABS H-Teile (Grill, Spiegel, Radabdeckung, Türgriffe) und verchromte K-Teile (Lichteinsätze)
- Dachgepäckträger aus PC-ABS für eine realistische Off-Road Optik
- Das Chassis wurde realen Offroadfahrzeugen nachempfunden und besitzt einen Rahmen für extra Stabilität
- Für den 4WD Antrieb sitzt der Motor hinter der Vorderachse mit einer getrennten Getriebebox. Die Kraft des Motors wird über zentrale Antriebswellen übertragen zu den Differenzialen an der Vorder- und Hinterachse
- 20 verschiedene Untersetzungsverhältnisse können eingestellt werden (11.09:1 bis 29.28:1, verschiedene Ritzel separat erhältlich)
- 4-Link Aufhängung mit CVA Öldruckstoßdämpfer
- schwarze ABS Felgen (6mm Offset) mit Offroadreifen
- inklusive elektronischem Fahrtenregler
- inklusive LED Lichteinheit
- zahlreiche Tuningteile erhältlich

Spare parts
Downloads