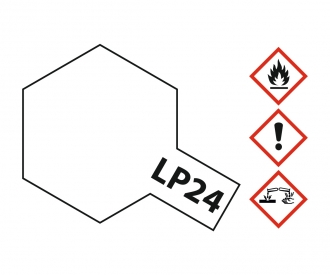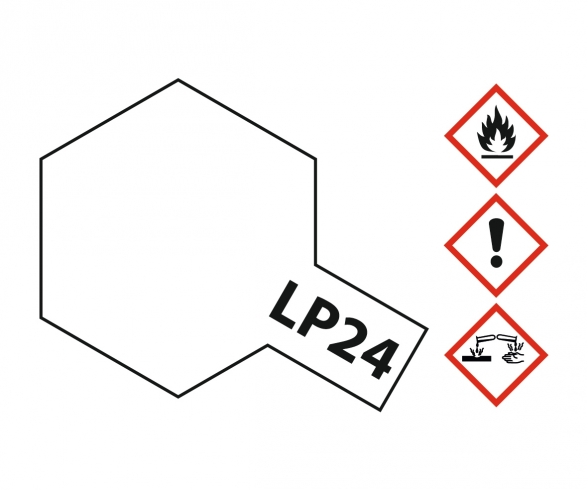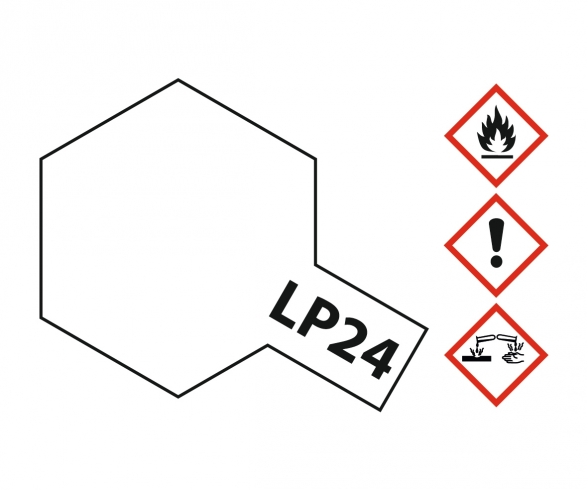 Quantity:
1
2
3
4
5
6
7
8
9
10
11
12
13
14
15
16
17
18
19
20
21
22
23
24
25
26
27
28
29
30
Delivery time 1-3 working days within Germany
This item can only be delivered to the following countries:
Germany, Austria, Portugal, Netherlands, Hungary
Product information
Art.Nr.: 300082124
Art.bezeichnung: LP-24 Klarlack seidenmatt 10ml

Das Perfekte Finish für Ihre Meisterwerke…
Die TAMIYA Lacquer Paints sind Kunstharzfarben auf höchstem Qualitätsniveau und wurden speziell für die Anwendung im Modellbau entwickelt. Mit den abgestimmten Farbtönen können die Modelle besonders realistisch gebaut werden. Die LP Farben können mit Pinsel oder Airbrush besonders gut verarbeitet werden und feine Details kommen zur Geltung. Die Verarbeitung kann direkt, verdünnt oder mit einem Trocknungsverzögerer erfolgen.

Ein anfänglich langsames Abtrocknen glättet die lackierte Oberfläche und endet mit einer schnellen Abtrocknung der Farbe. Diese sogenannte Trockenverzögerung (auch Retarder genannt) spiegelt sich in einem makellosen Finish wieder. Nach dem Abtrocknen/Aushärten der Farbe entsteht eine sehr kratzfeste und harte Lackoberfläche.

Schöne, robuste Farben mit überlegenem Glanz. Eine große Auswahl an atemberaubenden Farbtönen von matten und glänzenden Farbtönen die sich perfekt für die Lackierung von Zivilen- oder Militärmodellen bestens eignen. Sollte sich bei der Lackierung das eine oder andere Staubkorn eingeschlossen haben, so kann dieses mit den TAMIYA Polituren (Polish Compounds) auspoliert werden.
Ideal zur Verwendung mit Airbrush. Die Tamiya Lacquer Paints sind perfekt geschaffen für den Farbauftrag mittels Airbrush.

Für eine 2 – 3 Schichtlackierung kann die Farbe unverdünnt oder in einem Mischungsverhältnis von 1:1 (Farbe : Verdünner) oder bis zu 1:2 (Farbe : Verdünner) verwendet werden. Der Verdünner ist in zwei Gebindegrößen erhältlich: 10ml (LP-10, Art.- Nr.: 300082110) oder als 250 ml Kanister unter Art.-Nr.: 300087077.

Der Paint-Retarder/Trockenverzögerung kann zum langsamen Abtrocknen noch extra hinzugegeben werden, dieser ist unter Art.-Nr.: 300087198 erhältlich. Eine Kombination aus beiden - Verdünner und Paint Retarder ist als 250 ml Kanister (Art.-Nr.: 300087194) bereits vorgemischt verfügbar.
Auf die abgetrocknete Lackoberfläche kann auch mit Acryl- oder Enamelfarben "weitergearbeitet" werden.

- Kunstharzfarben
- Schnelltrocknend
- sehr kratzfeste und harte Lackoberfläche
- Sehr gut für Airbrush geeignet
- 10ml Inhalt

Signalwort Gefahr

Gefahrenhinweise:
- H225 Flüssigkeit und Dampf leicht entzündbar.
- H318 Verursacht schwere Augenreizung.
- H336 Kann Schläfrigkeit und Benommenheit verursachen.
- EUH066 Wiederholter Kontakt zu spröder oder rissiger Haut
führen.
Tamiya LP-Farbe
LP-24 Klarlack seidenmatt
Inhalt: 10 ml

Downloads
Frequently bought together
Frequently bought together