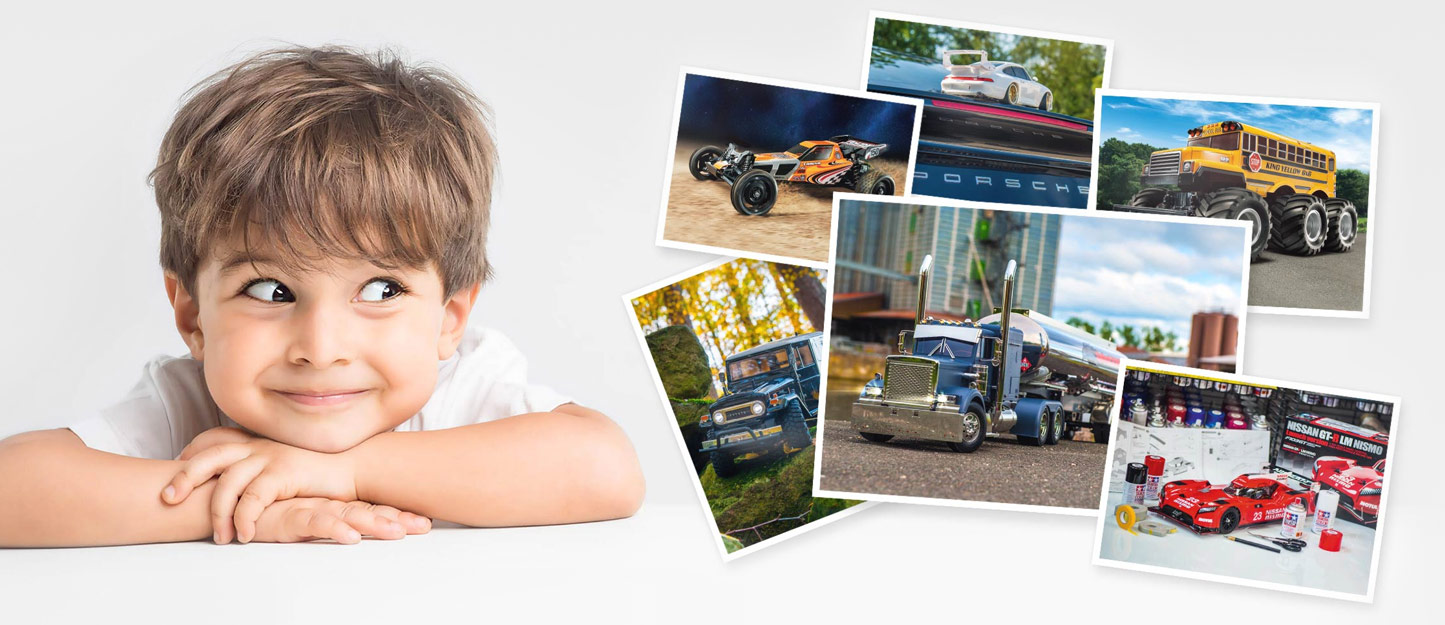 First in Quality Around the World
Tamiya is a Japanese manufacturer of model kits and remote-controlled vehicles and ships.
Brand philosophy
First in Quality Around the World
TAMIYA, the Japanese market leader for remote-controlled electric vehicles, has established an excellent reputation for its premium RC models, and rightly markets itself with the slogan "First in Quality Around the World". TAMIYA has been producing plastic models since the late 1950s and celebrated the 30-year anniversary of its RC vehicles in 2007. TAMIYA offers a range of RC model vehicles to suit users of all levels, from beginners to world champions. The truck and tracked vehicle range has captured the imagination of model-making fans for more than 2 decades.
History
TAMIYA – the worldwide network
Founded in 1946, TAMIYA Inc. Japan is headquartered in Shizuoka and boasts a worldwide network with 4 subsidiaries and more than 60 agents covering a wide range of regions, including the USA, Hong Kong and Germany.
Production
TAMIYA Philippines Incorporated – production facilities
Just over 15 years ago, TAMIYA arrived in the Philippines, where it laid the foundation stone for a state of-the-art production facility that sets new standards in model making. Covering an area of 4 hectares, this facility is used to manufacture TAMIYA's models. The factory employs highly qualified staff in the fields of product development, 3D model design, mould construction, production and quality control. The factory also has its own printing facility that produces all TAMIYA packaging, assembly instructions and other printed materials. By running its own comprehensive production facilities, TAMIYA can ensure that its products are manufactured to the highest quality standards.
Our racing series
TAMIYA FIGHTER-CUP and TAMIYA EURO-CUP
The TAMIYA FIGHTER-CUP and TAMIYA EURO-CUP RC racing series were launched 17 and 22 years ago. The events have helped to nurture the next generation of RC model racing fans, and give fans the opportunity to put their racing skills to the test. With up to 3000 participants each year, the FIGHTER-CUP is the world's largest youth racing series for RC cars.
Exhibitions
Customer focus
We present our product range at numerous model-making exhibitions throughout Germany and Austria. These exhibitions give us the opportunity to maintain contact with customers and fans, present new products and discuss the latest industry trends. Come and visit us at one of our upcoming exhibitions! For more information and dates, please visit www.tamiya.de
Quality
First in Quality Around the World – the TAMIYA quality guarantee
We are committed to manufacturing and supplying top quality products and providing a cutting-edge service. We aim to achieve the highest possible level of satisfaction among our customers and business partners. We are continuously improving our processes and products in order to consolidate our position as a world-leading manufacturer in the model-making sector.

Shunsaku Tamiya
Chairman
About the group