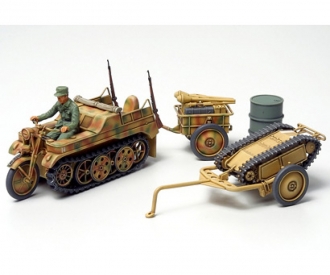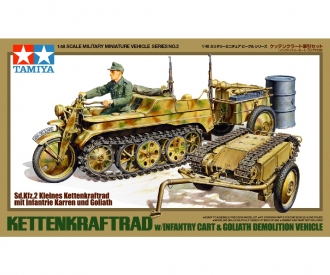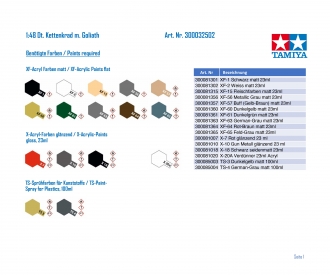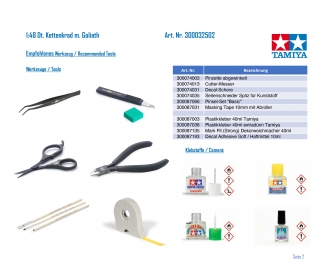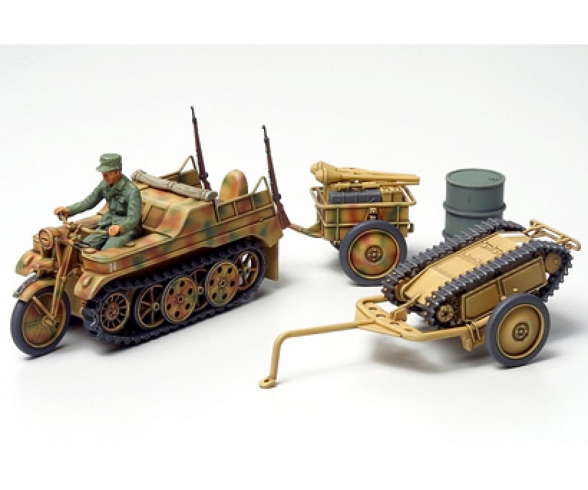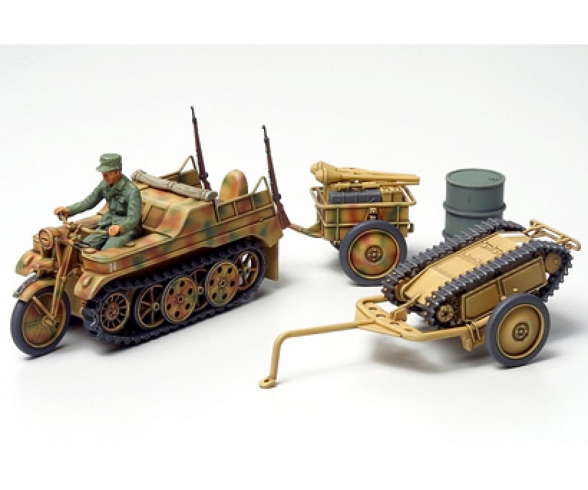 Quantity:
1
2
3
4
5
6
7
8
9
10
11
12
13
14
15
16
17
18
19
20
21
22
23
24
25
26
27
28
29
30
Delivery time 1-3 working days within Germany
This item can only be delivered to the following countries:
Germany, Austria, Portugal, Netherlands, Hungary
Article number: 300032502
Product: 1/48 WWII Ger. Kettenkrad m. Goliath

Following the release of the Kubelwagen as the first model in the 1/48 scale Military Miniature Vehicle (MMV) series, Tamiya introduces the second amazing release, the Kettenkfraftrad. This is a fabulous complete display kit featuring Kettenkfraftrad with an infantry cart, a demolition vehicle and many other great accessories on a tiny 1/48 scale. Model can be enjoyed by itself or combined with one of our fantastic 1/48 scale aircraft for a diorama display.

About the Kettenkraftrad (Infantry Cart & Goliath Demolition Vehicle)

Kettenkraftrad: Featuring three forward and one reverse gear the Kettenkraftrad was used as a transportation vehicle, a power generator, a communications vehicle, towing vehicle etc. Capable of towing up to 4 tons it was widely used to tow artillery and equipment, as well as aircraft when used by the Luftwaffe.
Infantry Cart: A lightweight cart that could be easily towed by just two men, a horse, a motorcycle or a Kettenkraftrad. The infantry cart was used all throughout WWII, displaying superior versatility and practicality.
Goliath: The Goliath was a remote control operated self-detonation vehicle. An 800m-long cable enabled remote control access to far away targets and remote detonation of its 60kg load of explosives.

About the Model

1/48 scale high quality plastic model of the Kettenkraftrad as used during WWII
Overall length of Kettenkraftrad: 64mm
Set includes accurately detailed Goliath demolition vehicle and infantry cart
Includes loads of accessories such as two types of grenade launchers, fuel drum, jerrycans, ammunition boxes, rifles and 1 uniformed driver figure
5 sets of markings to reproduce both the Germany army or Luftwaffe vehicles.

Model kit, Scale 1:48, Kettenkrad,
2 Trailers, Figure, Manual, Decal,
Length 64 mm.

Warning! Not suitable for children under 14 years.
Frequently bought together
Frequently bought together