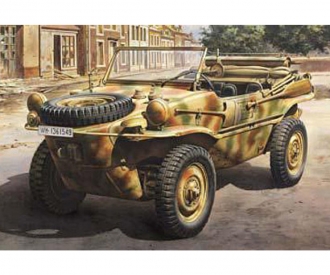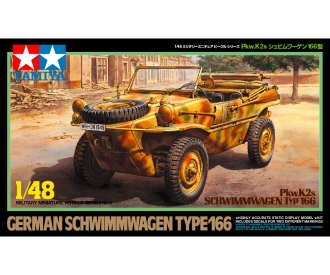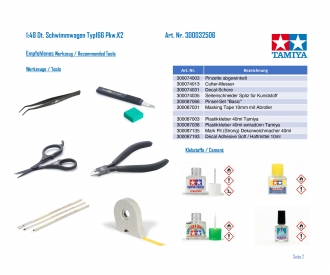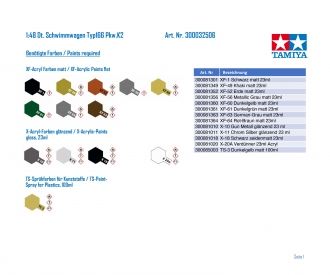 1:48 Ger. Schwimmwagen Typ166 Pkw.K2
Article number: 300032506
Age recommendation: from 14 years
Quantity:
1
2
3
4
5
6
7
8
9
10
11
12
13
14
15
16
17
18
19
20
21
22
23
24
25
26
27
28
29
30
Delivery time 1-3 working days within Germany
This item can only be delivered to the following countries:
Germany, Austria, Portugal, Netherlands, Hungary
Article number: 300032506
Product: 1:48 Ger.Schwimmwagen Typ166 Pkw.K2

About the Schwimmwagen

Designed by Dr. Ferdinand Porsche, the amphibious Schwimmwagen was used by the German land forces, paratroopers and engineering corps during WWII, fulfilling both reconnaissance and liaison duties. Capable of both 2 and 4 wheel drive, the Schwimmwagen was widely respected for its ability to maneuver on a variety of difficult terrain. Featuringa high-set exhaust pipe and a rear mounted 25hp air-cooled 4-cylinder 1,130cc engine, the Schwimmwagen could reach top speeds of up to 80km/h on land and 10km/h in water. Propelled in the water by a screw propeller, which was easily raised above the rear engine deck when driven on dry land, steering whilst in the water was done just like on land, using the front wheels as rudders. Mass-produced from 1942, 14,276 type 166 Schwimmwagen were produced by the end of 1944.<br
About the Model

1/48 scale replica of the Schwimmwagen Type 166 featuring 1/35 Military Miniature series detail.
Overall length: 82mm, Overall width: 29mm
High-quality interior detailing including dashboard, seats and transparent parts for window.
Screw propeller can be assembled in the up or down position.
Set includes decals for 2 different markings.

Model kit, Scale 1:48, Vehicle,
Manual, Decal, Length 82 mm.

Warning! Not suitable for children under 14 years.
Frequently bought together
Frequently bought together