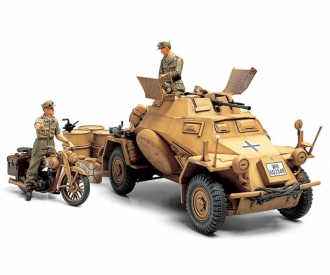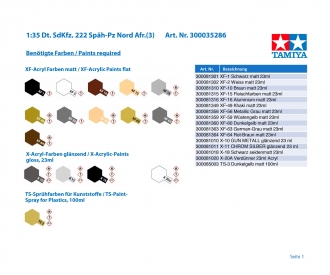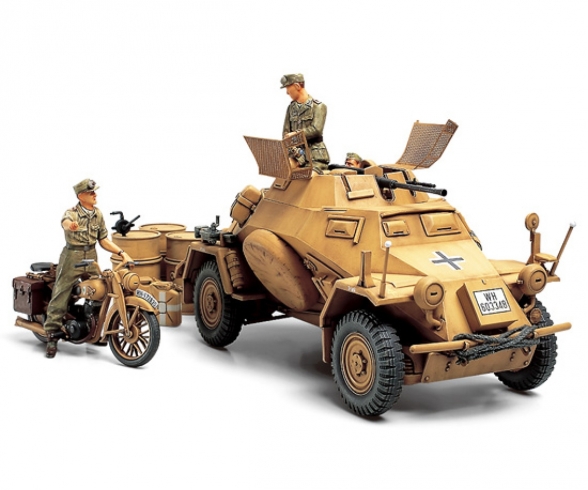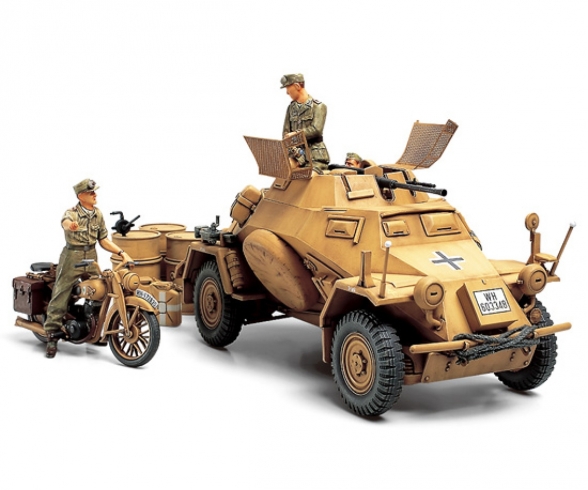 1:35 Ger. SdKfz.222 Arm.Veh. Nor.Afr.(3)
Article number: 300035286
Age recommendation: from 14 years
Quantity:
1
2
3
4
5
6
7
8
9
10
11
12
13
14
15
16
17
18
19
20
21
22
23
24
25
26
27
28
29
30
This item can only be delivered to the following countries: Germany, Austria, Portugal, Netherlands, Hungary
Article number: 300035286
Product: 1:35 Ger. SdKfz.222 Arm.Veh. Nor.Afr.(3)

About the Sd.Kfz.222

Among the many armored cars developed by Germany in WWII, the Sd.Kfz.222 is one of the most widely recognized. This light 4x4 vehicle had a distinctive hull shape thanks to its welded construction, and featured an open turret with mesh covers to protect the 3 crew members against grenades and shrapnel. It was armed with a 20mm cannon and 7.92mm machine gun and its exceptional off-road capability made it an excellent reconnaisance vehicle.

About the Model

•High-quality 1/35 scale assembly kit model of the Sd.Kfz.222 armored car.
•Sharp, angular form of hull and turret accurately reproduced.
•Open turret enables depiction of interior details such as the 20mm cannon, which features a metal barrel for enhanced realism.
•Photo-etched parts for turret mesh covers included for even more detail.
•Parts included for a DKW motorcycle and new parts such as hull-mounted tool box and headlight are also planned.
•3 new figures are included in this kit: 1 commander and 1 radio operator located in the turret, and 1 motorcycle rider figure that can be modelled with different facial expressions and poses.