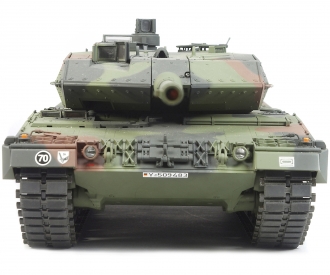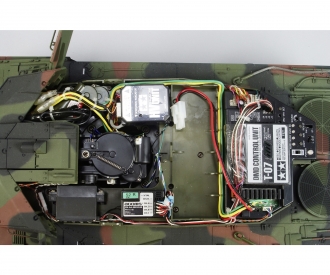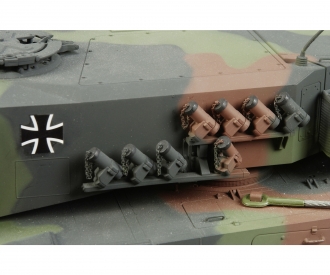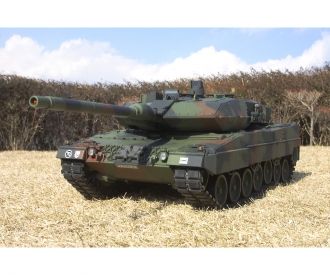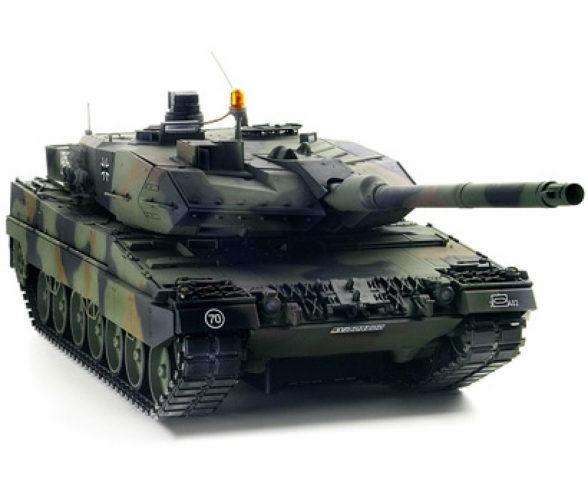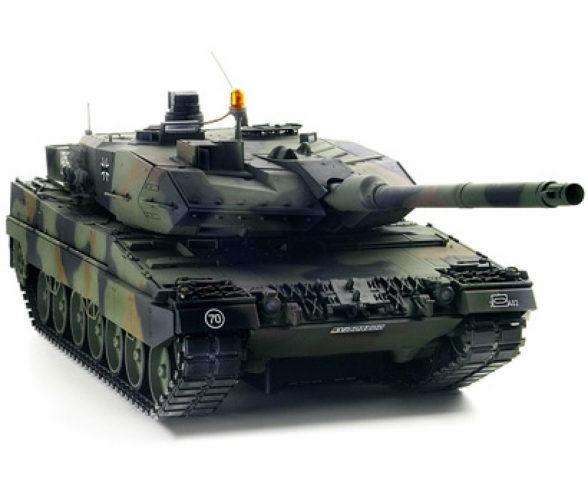 1:16 RC Panzer Leopard 2A6 Full Option
Article number: 300056020
Age recommendation: from 12 years
Quantity:
1
2
3
4
5
6
7
8
9
10
11
12
13
14
15
16
17
18
19
20
21
22
23
24
25
26
27
28
29
30
This item can only be delivered to the following countries: Germany, Austria, Portugal, Netherlands, Hungary
Article number: 300056020
Product: 1:16 RC Panzer Leopard 2A6 Full Option

Widely recognized as the best modern day Main Battle Tank (MBT), Tamiya introduces the latest German Leopard 2 tank, the Leopard 2 A6, to the 1/16 scale R/C tank series. Tamiya's biggest R/C tank ever, it's just like driving the real thing!

About the Leopard 2 A6

Used by more than 10 European nations, Germany's Leopard 2 tanks are a perfect balance of firepower, protection, mobility and availability. With the Leopard 2A5 regarded as the most powerful tank in the world with superior protection and fire power, the latest Leopard 2, the 2A6, features an even more powerful weapon system. The Leopard 2A5 featured replaceable wedge shaped armor on the turret, improved PERI-R 17 panoramic Commander's sight with thermal vision, spall liner on the turret interior for protection against splinters, all-electric gun control and stabilization system for easy maintenance and reduced noise, GPS navigation system, electro-pneumatic driver's hatch and a CCD camera mounted on the rear of tank for high-speed reversing. The Leopard 2A6 featured improved firepower including a 55 caliber 120mm smoothbore main gun utilizing kinetic energy LKE II ammunition for higher muzzle speed and lethality. The 2A6 has been employed by the German 403 tank battalion since March 2001, and is scheduled to replace all German 2A5 tanks by 2006. The use of the 2A6 continues to spread throughout Europe with the Netherlands, Spain and Greece adopting the 2A6 for their main battle tank. With continued improvements the 2A6 continues to set new standards as the world's best MBT.
R/C Leopard 2 A6 w/Option Kit
Warning! Not suitable for children under 14 years.
Features:
- Overall length: 688mm, Overall width: 237mm
- Comes with DMD Unit T-07 for real action movement, lighting and digital sound effects
- 2 lighting modes (same as the real tank) for a total of 7 lighting combinations
- Rotating turret: 360 degrees in 9 seconds (same as the real tank)
- Gun elevation: maximum elevation 20 degrees, maximum depression 9 degrees
- Sharp turning and pivot turning
- Gun automatically reloads and returns to original firing position
- Recoil action after firing main gun
- Engine start-up, shut down, acceleration, discharge etc. digitally recorded from real tank
- Height: 186mm, Rear turret to gun tip: 688mm, Width: 237mm, Weight (fully loaded): 4750g