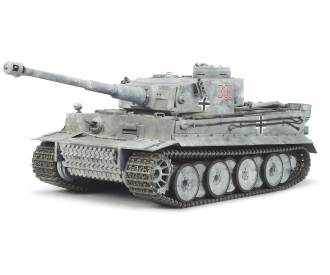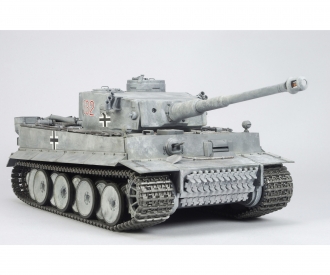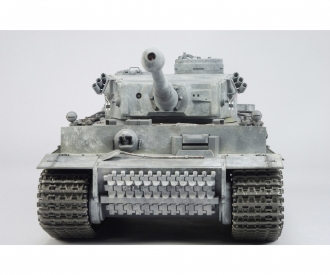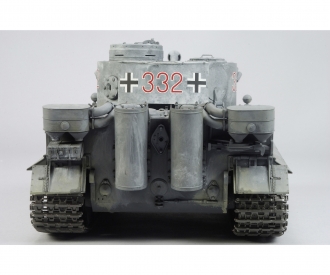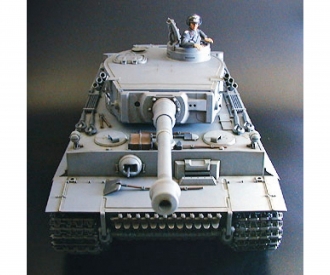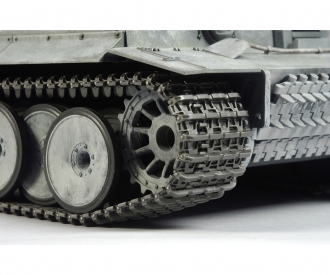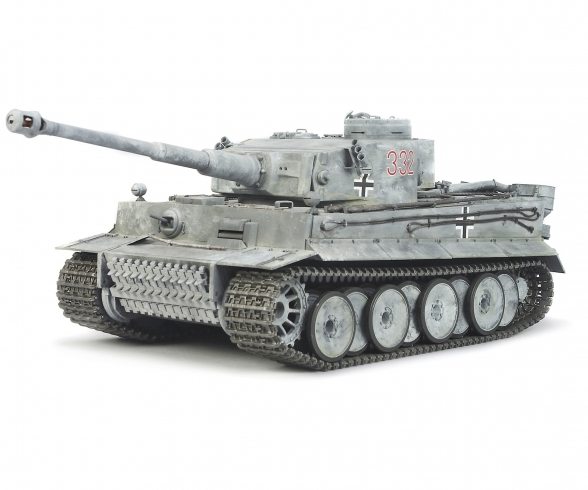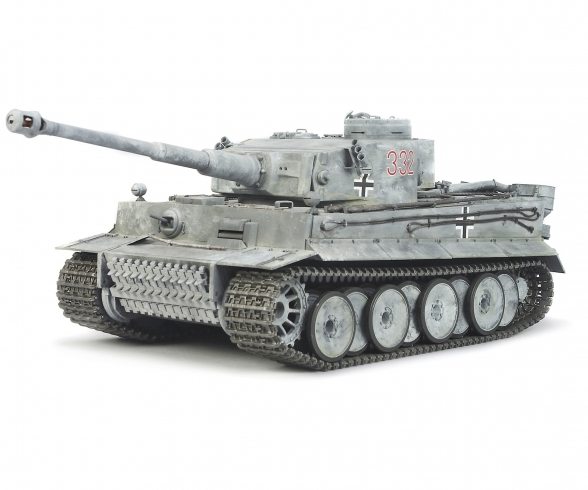 €645.00
incl. VAT
free shipping
(within the EU)
Quantity:
1
2
3
4
5
6
7
8
9
10
11
12
13
14
15
16
17
18
19
20
21
22
23
24
25
26
27
28
29
30
in stock, Delivery time 1-3 working days within Germany
This item can only be delivered to the following countries:
Germany, Austria, Portugal, Netherlands, Hungary
Article number: 30006010
Product: 1/16 RC Panzer Tiger 1 Full Option

Tamiya has put incredible power and versatility of the German Tiger I in your fingertips with this 1/16 scale, fully functional R/C tank. Just some of the many functions this tank is capable of have been recorded in the video clips below. First check out the firing of the main cannon, complete with true to life flash and cannon recoil. The shot is so powerful that it actually causes the tank itself to recoil, just like the full size Tiger I. Then, click on the next image to see the cannon rotate, tracking down the enemy and preparing to fire. Next is the firing of the authentically recreated 7.92mm MG34 machine gun! Finally, take a gander at how the Tiger I moves on its durable resin and metal tracks.

*1/16 scale Radio Controlled Assembly Model Kit (overall length: 530mm, overall width: 232mm)
*A four-channel RC unit is necessary to operate this kit. Two 7.2V Tamiya Racing Packs (or equivalent) and charger are also required.

Powerful Engine Sound

Just about every sound the real Tiger I made can be made on Tamiya's 1/16 scale Tiger I. When the tank is switched on, either a manual crank start sound, or an automatic engine start sound is heard. After your engine is turned over, its time to move the tank around. As you accelerate, the engine thundering increases just like the real Tiger I. Stop the tank, and the sound of authentic idling begins. Once you have located your target, rotate the massive turret and listen to the grinding of gears of the real German war machine. The more you control this R/C tank, the more you will feel like the commander of the full size Tiger I !


The front-mounted gearbox contains two Type 380 motors that can operate together or individually to produce forward/reverse running and pivot turning. Metal torsion bars and suspension arms combine with the wide tracks to smoothly absorb bumps and dips in the terrain and provide high maneuverability. In addition, realistic engine sounds accompany the tank as it starts up, drives, and stops to idle. Hull-mounted main gun can be elevated, depressed, and swung to the left and right.
The Thundering of the Maybach Engine

The only working King Tiger tank in the world is on display at the Saumur Tank Museum in France. Since the Tiger I used basically the same type of Maybach powerplant, some Tamiya staff members made their way to France to investigate. They recorded all the sounds of the real tank including; battery start-up, crank start-up, fly-wheel sound, etc. All the sounds of the enormous V-12 700hp engine have been clearly recorded and are waiting for you in Tamiya's 1/16 R/C Tiger I kit.
Scope of delivery:
Tank kit including multifunction unit MF-01 (for sound and light effects), DMD control unit T-03 and assembly instructions


Warning notices:
Read carefully and fully understand the instructions before commencing assembly. A supervising adult should also read the instructions if a child assembles the model.
When assembling this kit, tools including knives are used. Extra care should be taken to avoid personal injury.
Read and follow the instructions supplied with paints and/or cement, if used (not included in kit).
Keep out of reach of small children. Children must not be allowed to put any parts in their mouths, or pull vinyl bags over their heads.
Warning! Not suitable for children under 14 years.