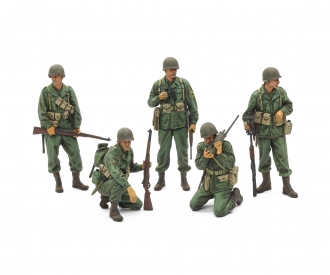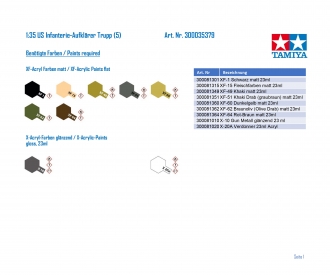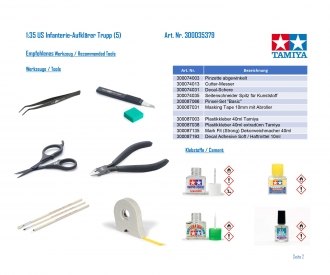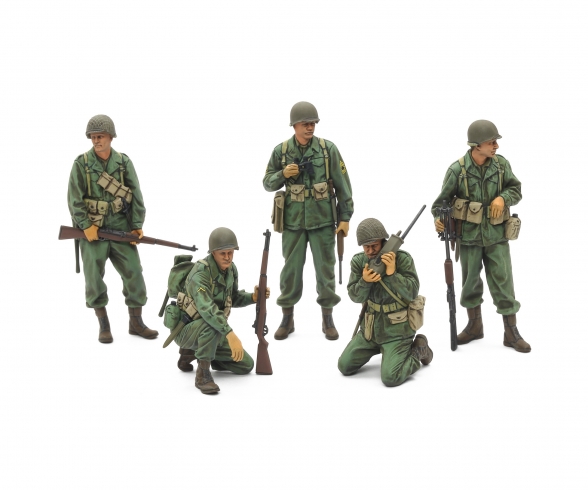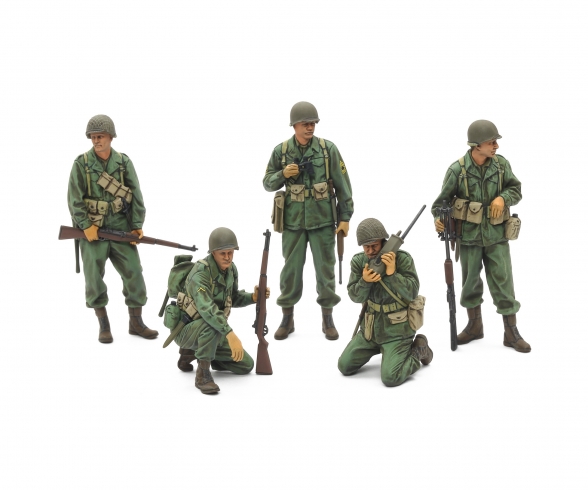 We will notify you by email as soon as this item is available again.
This item can only be delivered to the following countries:
Germany, Austria, Portugal, Netherlands, Hungary
Article number: 300035379
Product: 1:35 US Infantry Scout Set (5)

Tamiya is delighted to announce the release of a U.S. infantry set to follow the popular German army set (Item 35371 released in 2019). Various series of the short-sleeve M41 jacket and leggings had been the staple of the American Army uniform around June 1944 when the Invasion of Normandy occured, but from summer in that year onward, the new common uniform was developed for paratrooper, armored and mountain divisions, and the M43 field jacket and 2-buckle boot became common. It's been 27 years since the last new release of a U.S.
infantry set (Item 35192), so do not miss this chance to get these figures in multipurpose pose.

About the Item
• This is a 1/35 scale plastic figure model assembly kit.
• U.S. infantry scouts are accurately captured in uniform typical of the WWII period.
• These figures depict the commander looking ahead with M1 Carbine in hand, two soldiers with M1 Garand and BAR, one soldier with the Handie Talkie (Thompson submachine gun on the ground) and a rifleman down on one knee.
• Figures are in realistic pose and have lifelike facial expressions that add a further element of authenticity to any model or diorama of the period. (Use with M4A3E8 Sherman "Easy Eight", M10 and M18 Hellcat is recommended.)
• Accessories such as fire extinguisher, grenades and binoculars are also realistically captured.
• Comes with five helmets (two out of the five have camouflage nets).
• Decals are included to depict rank insignia on sleeves.