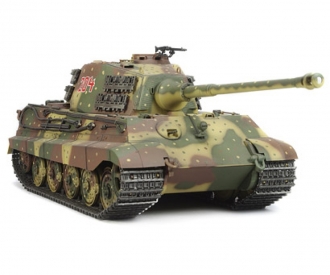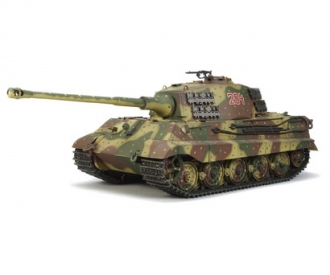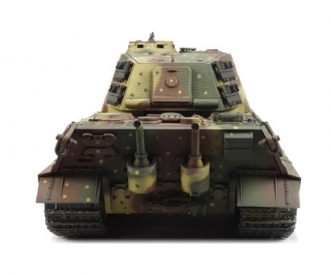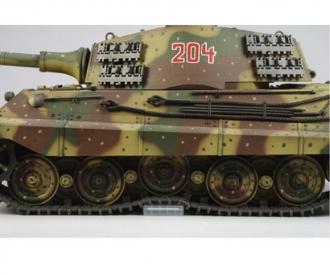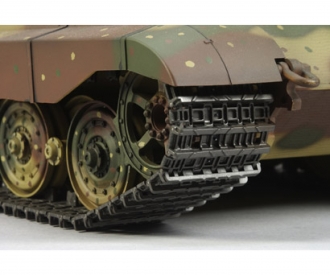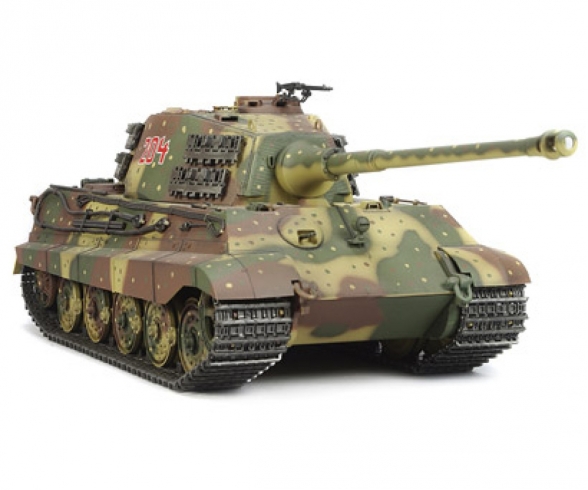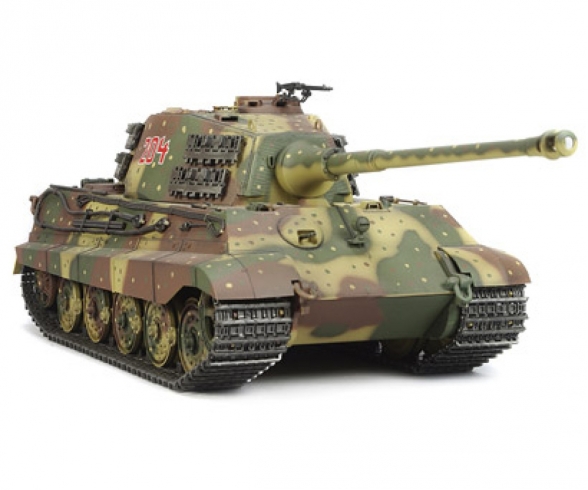 1:16 RC Panzer Königstiger Full Option
Article number: 300056018
Age recommendation: from 12 years
Quantity:
1
2
3
4
5
6
7
8
9
10
11
12
13
14
15
16
17
18
19
20
21
22
23
24
25
26
27
28
29
30
This item can only be delivered to the following countries: Germany, Austria, Portugal, Netherlands, Hungary
Article number: 300056018
Product: 1/16 RC Panzer Königstiger Full Option

Tamiya continues to develop its 1/16 R/C Tank Series. The fourth full-option kit to make its appearance is the German Heavy Tank King Tiger. Not only can the model move forward and backward and turn with a great sense of power, but the turret can be rotated and the 88mm gun raised and lowered. To imitate the firing of the main gun and of front machine gun, light flashes while sound is heard. The sound of the engine has been recorded, with the assistance of the French museum of Saumur, from a real Maybach HL230-P30 engine of the only King Tiger kept in working condition in the world. Not only all stages of engine sound (idling through full throttle) but also all the metallic clanking of the tank tracks have been thoroughly recorded.

During the second half of WWII, Zimmerit coating was applied on German tanks to protect them from the threat of magnetic mines. For this kit, the Zimmerit coating has been replicated with a unique relief printed seal. Thanks to this seal, you can now represent accurately a late war King Tiger with great ease.

About the German King Tiger (Henschel Turret)

The German Heavy Tank King Tiger made its appearance during WWII in 1944. The chassis front armor was 150mm thick with 80mm thick side armor and powered by a 700hp Maybach HL230-P30 engine. The Henschel and Porsche companies came up with rival turret prototypes. The first 50 tanks produced had Porsche turret whereas subsequent tanks were equipped with the Henschel designed production turret that featured many improvements over the first model. The King Tiger was armed with a 71-caliber 88mm gun that had enough power to pierce 150mm thick armor from 2000m away. Between The beginning of production in Summer 1944 and March 1945, 440 units were completed. Due to the havoc wreaked by the King Tiger during the final German offensive on the Ardennes front in December of 1944
R/C KING TIGER w/Option Kit
Warning! Not suitable for children under 14 years.