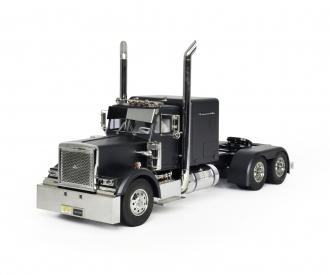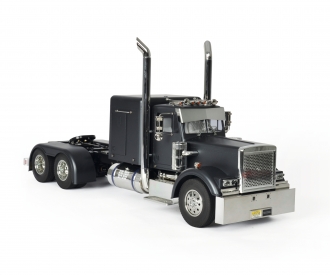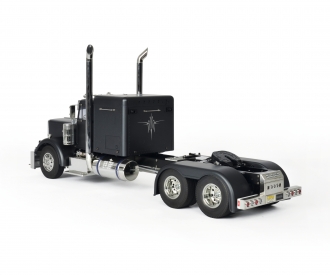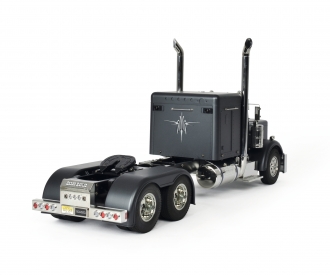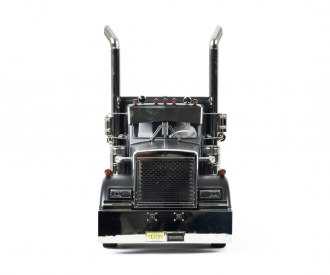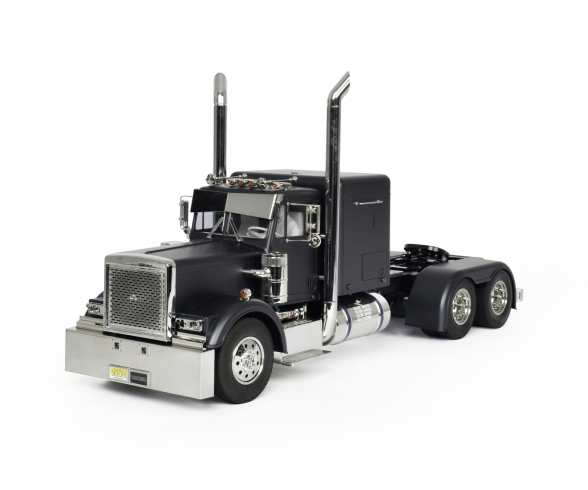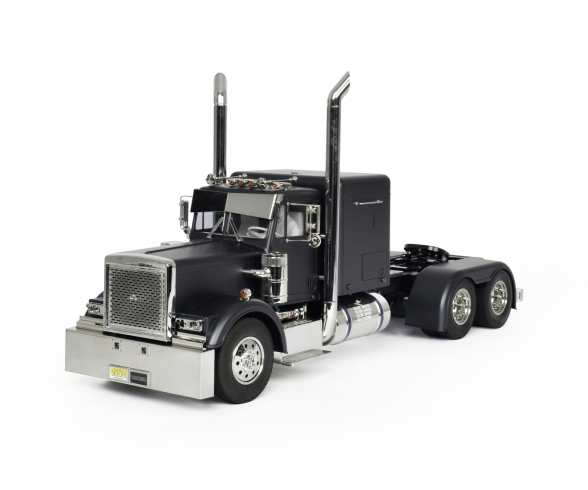 €500.00
incl. VAT
free shipping
(within the EU)
Quantity:
1
2
3
4
5
6
7
8
9
10
11
12
13
14
15
16
17
18
19
20
21
22
23
24
25
26
27
28
29
30
Delivery time 1-3 working days within Germany
This item can only be delivered to the following countries:
Germany, Austria, Portugal, Netherlands, Hungary
Article number: 300056356
Product: 1:14 RC Grand Hauler (Matte Black)

This is a special edition of Item 56344 Grand Hauler, the iconic North American big rig announced in 2015. It is a great option for those without the time or confidence to apply a paint job to their kit, as the body, H, P, and Q14/Q15 parts of the kit are
pre-painted Metallic black (Tamiya Color TS-40), and – in a first for the 1/14 R/C Tractor Truck series - given a matte coating which provides a cool look and protection from damage.

About the Model
• This is a 1/14 scale R/C model assembly kit. Length: 692mm, Width: 192mm, height: 330mm.
• The boxy, customized Grand Hauler form is a real eye-catcher. Body, H, P, and Q14/Q15 parts are molded in black, pre-painted in Metallic black (TS-40), and given a matte urethane top coat for a stunning finish.
• The matte paint job adds further emphasis to the numerous metal-plated parts, which include bumpers, radiator grille, roof-top horn and light bezel parts, side and kerb mirrors, air cleaners, mufflers and more!
• The tried and tested Tamiya 3-axle chassis utilizes a tough ladder frame with aluminum side channels and resin cross members. A realistic drivetrain setup sees the front mounted motor powering twin rear axles.
• 3-speed transmission can be controlled via a separately sold 4ch R/C transmitter.
• Metal leaf spring dampers with built-in coil springs provide durable suspension.
• Coupler is included to enable connection with any currently available Tamiya 1/14 scale trailer.
• Compatible with separately-sold Multi-Function Control Unit MFC-01 (Item 56511) (or MFC-03, Item 56523) for realistic LED lights and sounds.

Technical Details:
• 1/14 Scale Model Kit
• Realistic, extended body with new front and rear bumpers, grille, air filter, and exhaust pipes. The exhaust pipes are made of metal.
• Body, H, P, and Q12/Q15 made of black plastic and pre-painted in TS-40 Metallic Black (Matte)
• Aluminium ladder frame with plastic reinforcements
• Realistic drivetrain with front-mounted motor and double-axle drive at the rear (6x4)
• 3-speed manual gearbox transmission, shiftable on-the-fly via an extra servo (requires multi-channel remote control)
• Suspension with leaf springs and frictions dampers
• driver figure included
• Trailer hitch plate prepared for TAMIYA and CARSON semi-trailers
• Numerous tuning parts available for further customization
• Recommended multifunction unit (speed controller, light and sound effects):
• MFC-01 300056511 (American sound) and MFC-03 300056523 (European sound)

Technical Data:
• Length 692 mm
• Width 190 mm
• Height 300 mm

Frequently bought together
Frequently bought together