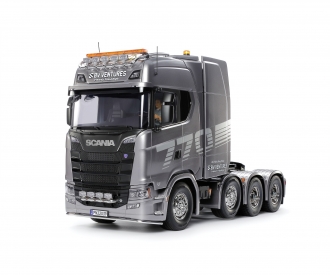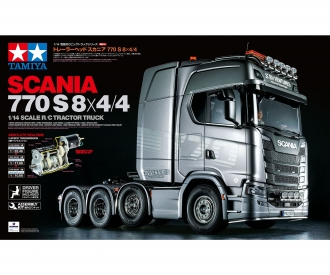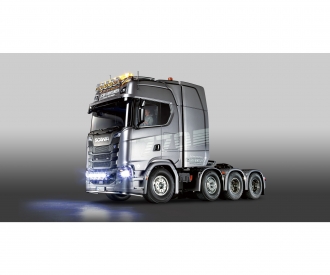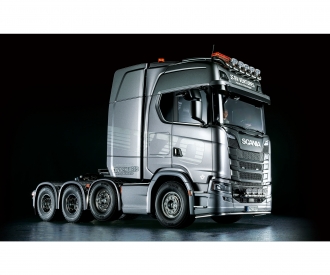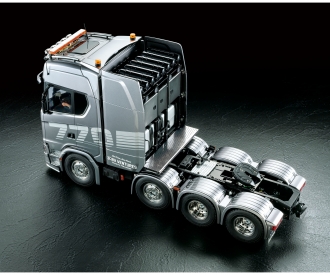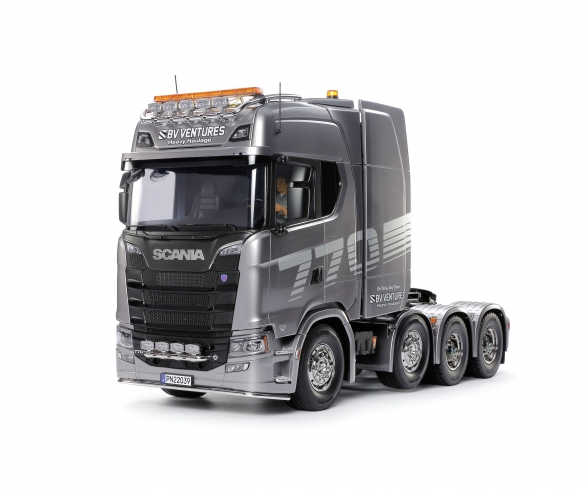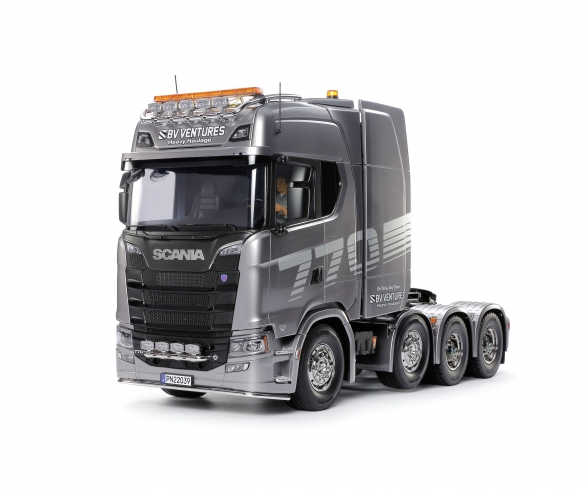 €850.00
incl. VAT
free shipping
(within the EU)
We will notify you by email as soon as this item is available again.
This item can only be delivered to the following countries:
Germany, Austria, Portugal, Netherlands, Hungary
Article number: 300056371
Product: 1:14 RC SCANIA 770S 8x4/4

Tamiya is proud to welcome the Scania 770 S 8x4/4 to the 1/14 R/C Tractor Truck Series. The Scania 770 S heavy trailer head is the newest heaviest-class trailer head added to the NEXT GENERATION SCANIA series in 2020. This S series features a V8 turbo engine capable of 770hp. The 8x4/4 means double-axle 4-wheel
drive at the rear and double-axle 4-wheel steering at the front.

Included:
Assembly Kit of Scania 770S, 1/14th scale,
Auxiliary machinery tower, aerodynamic
Package, Aluminium Frame, double front
Axle steering, lift axle

WARNING!
Read carefully and fully understand the instructions before commencing assembly. A supervising adult should also read the instructions if a child assembles the model.
When assembling this kit, tools including knives are used. Extra care should be taken to avoid personal injury.
Read and follow the instructions supplied with paints and/or cement, if used (not included in kit).
Keep out of reach of small children. Children must not be allowed to put any parts in their mouths, or pull vinyl bags over their heads.

- This is a 1/14 scale R/C model assembly kit. Length: 610mm, width: 196mm, height: 320mm.
- This is a 1/14 scale R/C model assembly kit. Length: 610mm, width: 196mm, height: 320mm (excluding side mirrors, antenna, etc.).
- The model realistically depicts the Scania 770 S 8x4/4, and a chassis has numerous metal parts.
- The cab is authentically recreated by precise injection molding, and its rear has detailed renderings of auxiliary machinery tower, fuel tank and air tank to give it a heavyweight look.
- Just like the actual vehicle, this model has double rear-axle drive and double front-axle steering. It has the motor and transmission at the front of a metal ladder frame.
- Highly-realistic suspension using metal leaf springs features lift axle – can be moved up and down by hand at the second axle like the actual structure.
- Assembly type 3-speed transmission allows gear changes via separately available 4-channel transmitter.
- Multi-Function Control Unit (Item 56523: MFC-03, sold separately) offers light, sound, and vibration operation.
- Interior parts such as modern-design dashboard and seats are included, and can be installed together with the Multi-Function Control Unit.
- Includes a 1/14 scale driver figure, and stickers and metal transfers to decorate the body.