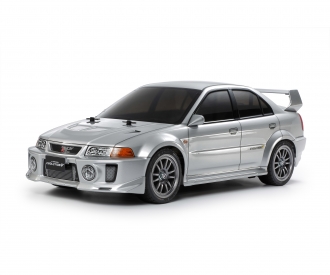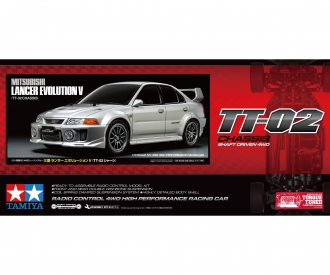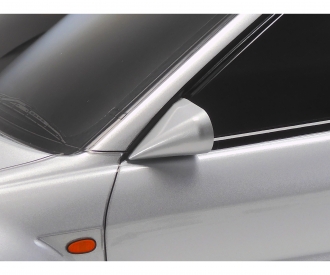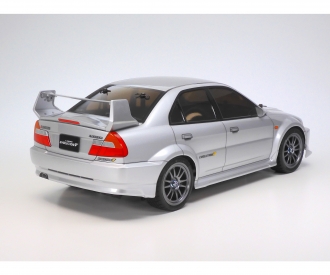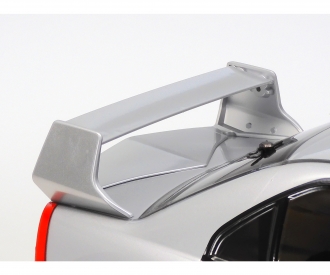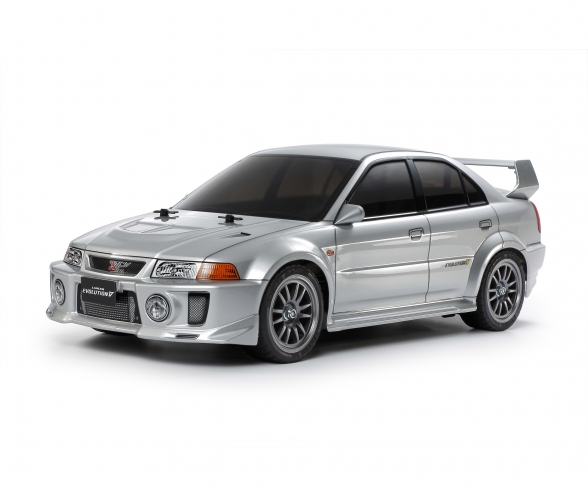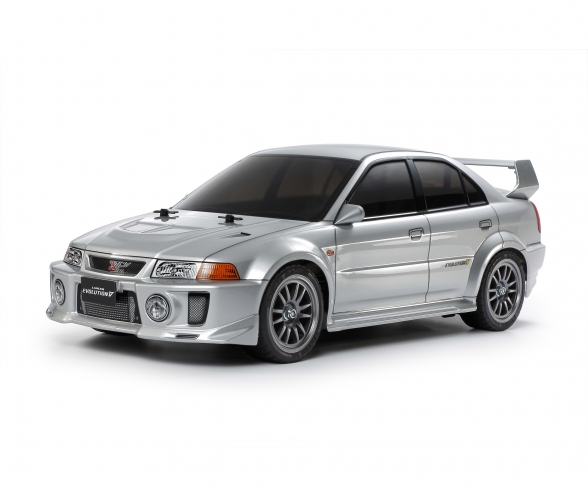 1:10 RC Mitsubishi Lancer Evo V (TT-02)
Article number: 300058713
Age recommendation: from 14 years
€150.00
incl. VAT
free shipping
(within the EU)
Quantity:
1
2
3
4
5
6
7
8
9
10
11
12
13
14
15
16
17
18
19
20
21
22
23
24
25
26
27
28
29
30
Delivery time 1-3 working days within Germany
This item can only be delivered to the following countries:
Germany, Austria, Portugal, Netherlands, Hungary
Article number: 300058713
Product: 1:10 RC Mitsubishi Lancer Evo V (TT-02)

Tamiya is proud to announce the release of the Mitsubishi Lancer Evolution V as a 1/10 R/C model assembly kit based on our popular TT-02 chassis. The Mitsubishi Lancer Evolution 5th generation model took part in global rally races in 1998 and achieved both Maker's and Driver's Championships.
This car featured a powerful body with bulging fenders, louvers and air intakes on the hood, and rear wing. This kit depicts it as a road car.

WARNING!
Read carefully and fully understand the instructions before commencing assembly. A supervising adult should also read the instructions if a child assembles the model.
When assembling this kit, tools including knives are used. Extra care should be taken to avoid personal injury.
Read and follow the instructions supplied with paints and/or cement, if used (not included in kit).
Keep out of reach of small children. Children must not be allowed to put any parts in their mouths, or pull vinyl bags over their heads.


• This is a 1/10 scale R/C model assembly kit. Length: 445mm, width: 185mm, height: 145mm.
Wheelbase: 257mm.
• The lightweight, durable 1.0mm thick polycarbonate body (from Item 58461) authentically captures the distinctive form in style.
• Separate parts realistically depict side mirrors and rear wing.
• The model utilizes the shaft-driven 4WD TT-02 chassis which features superior adaptability and stability.
• 12-spoke silver wheels are paired with tread patterned racing radial tires.
• Comes with stickers and masking stickers for use in the paint job.


Frequently bought together
Frequently bought together