Maquettes de véhicules militaires 1/16
---
Sort by:
Top sellers
New
Price ascending
Price descending
Filter
---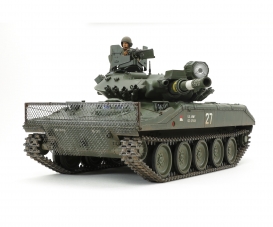 Maquettes de véhicules militaires 1/16
1/16 M551 Sheridan (Display)
300036213
€500.00
Article number: 300036213 Product: 1:16 US M551 Sheridan (Display) This large-scale 1/16 static display tank recreates the unique M551 Sheridan. The actual Sheridan began development in 1959 and would go on to serve in major conflicts such as the Vietnam and Gulf Wars. It was a lightweight, air liftable vehicle that contributed to the more mobile U.S. forces that were necessary as America took on a more major global security role in the post-WW2 years. This model uses components from the R/C model, for a highly detailed finish. • 1/16 scale plastic model assembly kit. Length: 408mm, width: 177mm, height: 186mm (including gun shield). • The powerful form of the Sheridan with 152mm gun/launcher is recreated in excellent detail. • Features a precision aluminum gun barrel, plus other metal components including lower hull, drive sprockets, coil-sprung suspension arms and more. • Pre-assembled plastic tracks offer wonderful detail, and have soft resin depictions of rubber pads. • Soft photo-etched metal parts are included to recreate the anti-RPG net often seen as an impromptu addition to Sheridan's deployed in Vietnam.