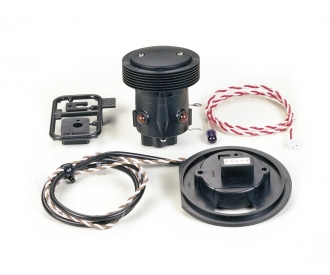 Article number: 300053447
Product: 1:16 Tamiya Tank Battle System

Tamiya is proud to release Battle System-a revolution in tank-to-tank fighting. This system incorporates infrared light and realistic sound, eliminating the difficulty in judging, often found with other tank-to-tank games. Furthermore, infrared light is totally harmless and prevents damage to details of the tank body. The system is comprised of the GFS (Gun Fire Simulator) Unit and the Infrared LED Unit, for the respective detection and emission of infrared beams. A wide range of sound effects and actions are reproduced with Battle System including: damage blast, engine trouble sound, loss of speed, blast reaction, limited operation state, and finally inoperative state. Battle System provides a maximum shooting range of 30m and can be easily installed to your tank even after assembly and painting. Battle System lets you bring out the true roar of your 1/16 RC Tank!

Scope of delivery:
BATTLE SYSTEM · Mounting plate with cables · Infrared LED with bracket · Installation instructions

Warning! Not suitable for children under 14 years.
- Hit detection via infrared · Tank class (light, medium or heavy) adjustable
- Suitable for 56010, 56014, 56016, 56018, 56020, 56022