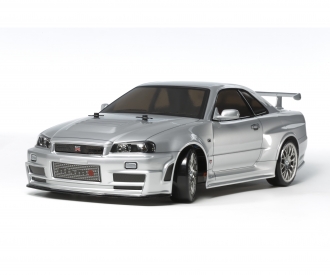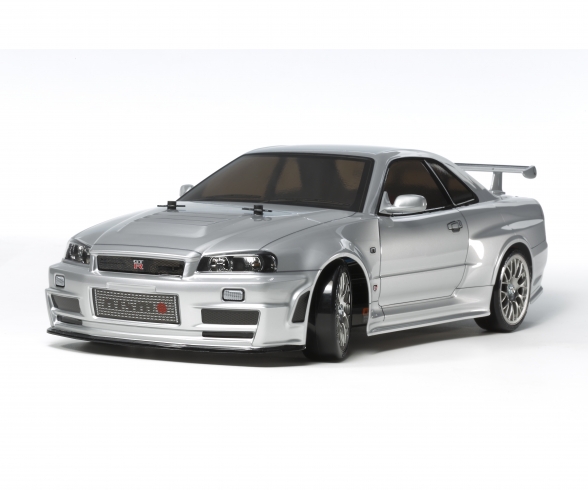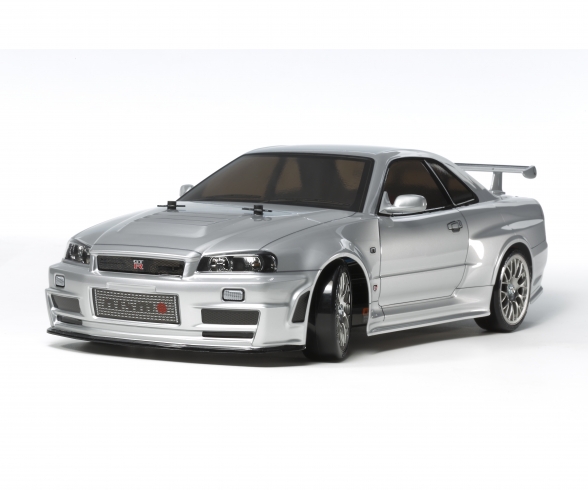 1:10 RC NISMO R34 GT-R Z-Tune (TT-02D)
Article number: 300058605
Age recommendation: from 14 years
€235.00
incl. VAT
free shipping
(within the EU)
Quantity:
1
2
3
4
5
6
7
8
9
10
11
12
13
14
15
16
17
18
19
20
21
22
23
24
25
26
27
28
29
30
in stock, Delivery time 1-3 working days within Germany
This item can only be delivered to the following countries:
Germany, Austria, Portugal, Netherlands, Hungary
Article number: 300058605 Product: 1/10 RC NISMO R34 GT-R Z-Tune (TT-02D)
The R34 GT-R is given a new release on the new Tamiya standard for drift driving, the TT-02D chassis. The R34 was the 5th generation of the legendary Nissan GT-R series of cars; it debuted at the 2005 Tokyo Auto Salon. The Z-Tune version was an even more impressive beast; developed by Nissan's in-house motorsports/ performance division NISMO, it was built around a 500hp 2.8-liter powerplant that could reach 8,000rpm. It also featured SACHS adjustable suspension and brakes developed in conjunction with Brembo. NISMO also went to work on the body, with racing features such as vents and wider fenders than the original. The body color was the aptly-named Z-Tune Silver, applied specially for this car. With only 20 production cars made, getting your hands on one is a difficult task, but you can pilot it in R/C form with this model!
About the Model
• This is a 1/10 scale R/C model assembly kit.
• The aggressive 2-door coupe form is captured faithfully by the polycarbonate body.
• The TT-02D is the specially tuned drift spec of the popular shaft-driven 4WD entry chassis, the TT-02.
• Features 24mm width drift-spec tires, CVA oil dampers, full ball bearings, a sport-tuned motor and aluminum motor heat sink.
• The body was originally used on Item 58419.
• Export version only includes LEDs to recreate lights on the car.
Warning! Not suitable for children under 14 years.
Technical details:
- 1/10 scale kit model
- Wheelbase 257mm
- Detailed polycarbonate body (incl. window masking film for painting)
- Robust TT-02D chassis (drift tuned)
- CVA oil pressure shock absorbers
- Ball-bearing
- Aluminum radiator
- Drifttech tires
- 4WD shaft drive with protected drive train
- Incl. electronic speed controller
- Powerful 540 SPORT TUNED engine
- Numerous TT-02 option parts available separately