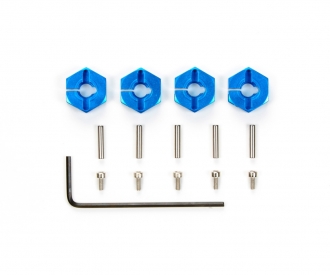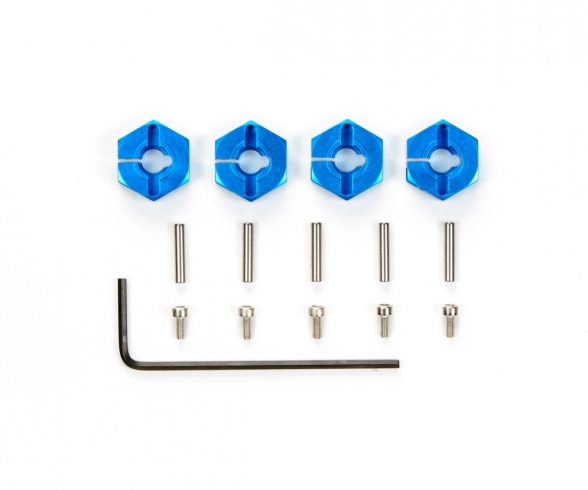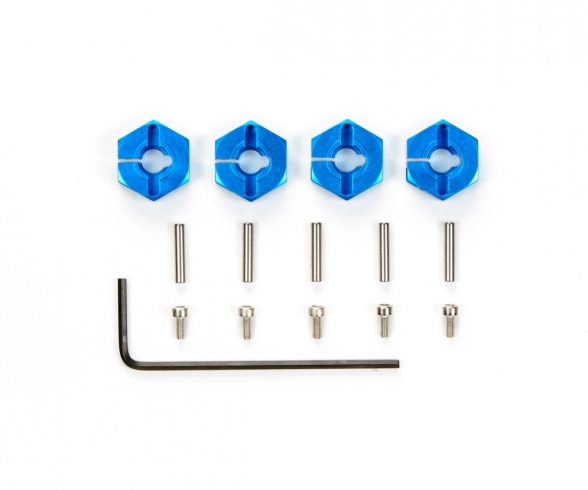 only 8 pieces left in stock, Delivery time 1-3 working days within Germany
This item can only be delivered to the following countries:
Germany, Austria, Portugal, Netherlands, Hungary
Article number: 300053570
Product: Wheel Hub Clamp Type 4mm (4) blue

A slot is provided in the wheel hub and the slot is tightened with a cap screw to hold it in place. It can be securely attached to the wheel axle, and when you take off the wheel, you don't have to worry about the 2 x 10mm stainless steel shaft falling off. In addition, since it is made of machined aluminum with excellent accuracy and rigidity, the assembly accuracy of the wheel is also improved.

Scope of delivery:
4x wheel hub, 5x cap screws, 5x stainless steel shaft

Warning! Not suitable for children under 14 years.
-F103GT chassis, FF-03 chassis, FF-03 PRO chassis, M-08 CONCEPT chassis, M-07 CONCEPT chassis, TA08 PRO chassis, TA07 MSX chassis, TA07 MS chassis, TA07 PRO chassis, TA06 MS chassis, TA06 chassis, TA06 PRO chassis, TA05 Ver.II chassis, TB-Evo.7 chassis, TB-Evo.6 MS chassis, TB-Evo.6 chassis, TB-05 PRO chassis, TB-04 chassis, TB-04 PRO chassis, TB -03 chassis, TB-03 VDS chassis, TC-01 chassis, TRF420X chassis, TRF420 chassis, TRF419XR chassis, TRF419X chassis, TRF419 chassis, TT-02 TYPE-SR chassis, TT-02 TYPE -S chassis
- for FF-03 chassis, FF-03 PRO chassis, TB-03 chassis, TA05 ver.Ⅱ chassis... Used with 53646 and 53647